Roadside grass cutting, weeds and overgrown hedges or trees
Grass cutting on road verges is done by the Department for Infrastructure for road safety reasons only and for no other reason. Roadside trees/hedges are the responsibility of the owner/occupier of the land they're on. You can report a safety issue with weeds, grass verges, hedges or overhanging trees.
Before you start
Report an issue with roadside grass, weeds, hedges or trees
You can report an issue with roadside grass, weeds, hedges or trees by using the map at the link below.
Once the map has opened, you should:
enter street name into search window and/ or pan/ zoom the map to the relevant part of the road
select the road section to report a fault, then follow the instructions to add further information and contact details
if the fault has already been reported, you can still add your name to the list of those reporting it by choosing 'add' 
Privacy notice
You can find out how any personal information you send to DfI Roads when using this 'report a fault' service will be handled by viewing its privacy notice.
Additional information
Tracking the progress of a fault
You are able to check the progress of a fault you have reported using the link below:
Other ways to report
You can also report a grass or weeds issue by email or phone (for emergencies only) by using the contact details on the DfI Roads page.
Grass cutting factors
When cutting grass verges, DfI has to balance the safety and convenience of road users with other factors such as:
funds available for the task
legal requirements about noxious weeds
effects of the operation on the environment
impact on flowers/ wildlife and the fact that smaller species of wildlife rely on ground cover for their existence
How often grass verges are cut
Routine cutting is normally carried out up to twice a year in rural areas up to one swathe width (around 1.2m).
In urban areas, grass verges are normally cut up to five times a year across the full verge. However, in the current financial situation, DfI will cut all roadside verges twice in the period April to October.
Grass on sight lines, at road junctions and bends is cut more often as required.
Roadside hedges and trees
If you own or occupy land next to a public road or footway, you are responsible for lopping any tree or cutting back any hedge growing on your land which:
endangers or obstructs the movement of vehicles (including high-sided vehicles)
endangers or obstructs the movement of pedestrians, especially pedestrians with a visual impairment
obstructs the view of drivers of vehicles
obstructs or interferes with the light from any street light
or
obstructs the view of traffic signs or affects the safety or convenience of road users 
Lopping or cutting back should be as needed to remove the obstruction or remedy the matter.
You should allow at least 5.5m vertical clearance for trees and hedges overhanging a road, and 2.4m over a footway.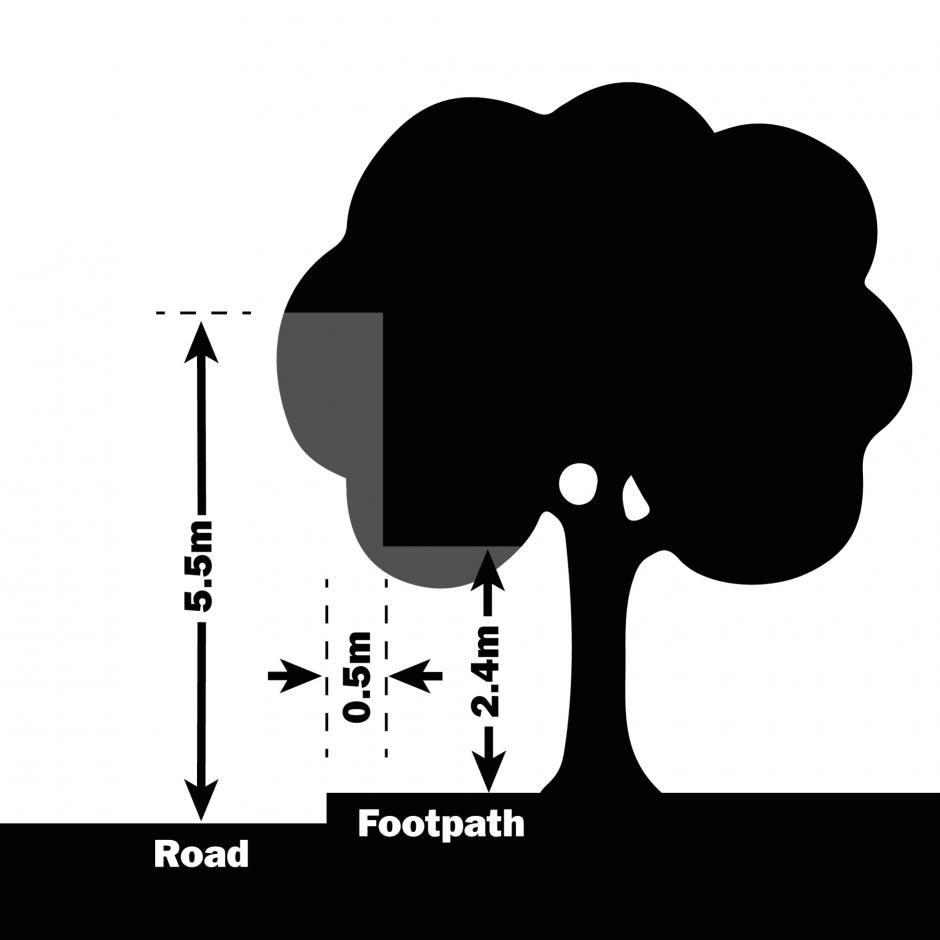 As an owner or occupier you're also responsible for removing any tree or hedge which is dead, damaged, diseased or insecurely rooted and (because of this) is likely to cause danger to people using the road or footway.
If you're carrying out this work:
quickly clear all hedge and tree cuttings from public roads and footways to make sure that all users of the road are not inconvenienced or endangered 
and
make sure that any such works on a public road or footway are signed and secured in line with the code of practice  - or if the work is carried out on a dual carriageway with hard shoulders, signed and secured in line with chapter eight of these guidelines.
You can get further information at this link: