Heavy goods and large passenger carrying vehicles
All heavy goods vehicles (HGVs) over 3,500kg and large passenger carrying vehicles (LPCVs) must be tested annually from the first anniversary of registration. This is when the LPCV is not being used for hire or reward and is built to carry the driver plus more than eight passengers.
Applying for a vehicle test online - HGVs
For information on how to book an appointment, go to:
For information on the driving and vehicle test centres, go to:
Applying by phone
You can also make an appointment by telephone using the booking line:
You cannot make multiple bookings over the phone.
Trailers due a first time test
To book an appointment for trailers due a first time test, you'll need to contact the booking  line: 
You can also email customer support using the online booking enquiries email at the link below: 
COVID-19 screens/ partitions fitted to buses or taxis
For more information on COVID-19 screens/ partitions that can be fitted to buses or taxis go to:
The DVA Enforcement Section is responsible for enforcing a wide range of legislation related to goods vehicles, buses and taxis. It also checks private cars and agricultural vehicles.  
Further information can be found at:
Further information about drivers' hours and tachographs can be found on at:
Free Rolling Tyres - change to the annual vehicle test
Free Rolling Tyres marked FRT are designed for use on the axles of trailers and motor vehicles, other than the front steering and drive axles.
If you have vehicles that are fitted with FRTs on drive axles, they will fail the annual vehicle test. Also since 3 July 2023, if you have HGVs and passenger carrying vehicles (PSVs) that are fitted with a FRT on the front steering axle they will also fail.     
More information can be found at: Heavy Vehicle Inspection Manual  
HGVs - when extra mirrors must be fitted
By law, trucks over 3.5 tonnes and first registered on or after 1 January 2000, need to be fitted with a wide angle mirror and a close proximity mirror - both mirrors are to be fitted on the nearside of your vehicle.
You need these additional mirrors to help you detect other road users in the areas immediately around your vehicle, to reduce the potential for collisions.
Check if your vehicle complies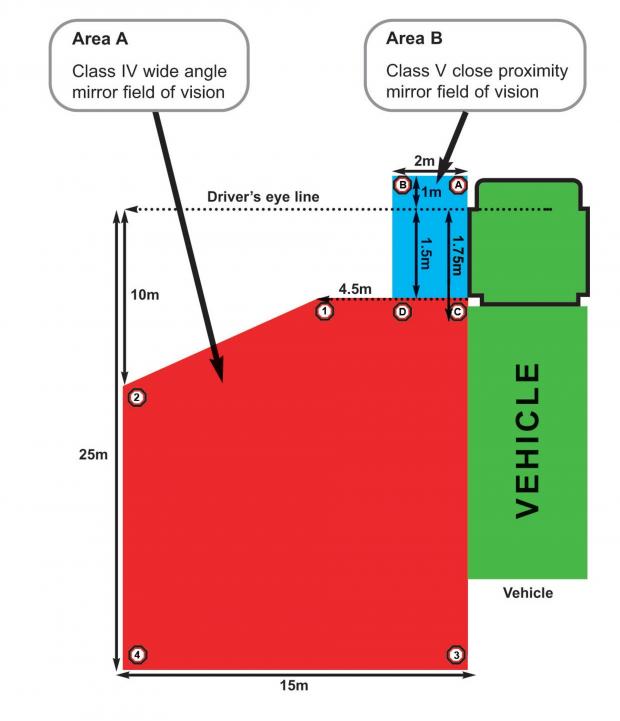 To check if your vehicle complies, or needs to be retrofitted, you will need to carry out a field of view check.
With visible markers placed in the locations shown in the diagram (numbers 1-4) and (letters A-D) and your mirrors adjusted as needed, when positioned in the driver's seat. Check if you can see the ground enclosed by the base of the markers. If you can, your field of view is compliant.
Remember the field of vision is important
If you do not have the field of view needed, you should contact your vehicle maker or supplier for advice.
Certain exemptions apply, for example, where it is not practicable to fit the close proximity mirror above two meters from the ground.
More useful links