Heavy goods and large passenger carrying vehicles
Due to the restrictions imposed to prevent the spread of COVID-19, vehicle testing is still limited but has resumed for a number of categories, including heavy goods and large passenger carrying vehicles.
The Driver and Vehicle Standards Agency (DVSA) recently issued correspondence to NI operators which doesn't apply to vehicles registered in NI.
NI-registered HGVs and trailers due a test from 1 September 2020 are currently being tested. 
Anything before 1 September will have received a Temporary Exemption Certificate extended to the maximum of one year.
PSV licences – COVID-19
The Department for Infrastructure has made a determination to renew bus PSV licences, effectively exempting them from the roadworthiness test.
A 12-month licence will be issued automatically and free of charge for vehicles with a licence expiry between 10 March 2020 and 31 May 2021.
Vehicle owners will receive their automatic licence in the post before their current licence expires. Only buses that have been previously tested and issued with a licence will be eligible under the temporary arrangements. Only one automatic licence will be issued for each vehicle.
The licence authorises the continued use of the vehicle, for the period of the licence, without the need for a vehicle test to be conducted.    
The licence is issued under licence conditions.
Applying for a vehicle test online - HGVs
The online booking service for HGVs has re-opened.
For information on how to book an appointment, go to:
Other useful links:
Applying by phone
Appointments can also be made by telephone only using the booking line on 0300 200 7862.
Note, that multiple bookings are not available over the phone.
Trailers due a first time test
To book an appointment for trailers due a first time test, you'll need to contact the booking  line on  0300 200 7862 or email customer support at: B&RCustomersupport@infrastructure-ni.gov.uk.
COVID-19 screens/ partitions fitted to buses or taxis
To protect drivers and the public fitting, some form of partition or screen may be being considered by drivers/ operators.
Any such alteration must satisfy certain requirements in order for the vehicle to pass its annual inspection.
Screens will also be checked in other areas, such as how they affect the driver's view of the road, condition, security, and whether there are any sharp edges or protrusions likely to injure a passenger.
Requirements
Screen/ partition material
the partition/ screen must be made of safety glass or safety glazing and should display an appropriate approval marking
without an appropriate approval marking, documentary evidence from the glazing maker/ supplier that confirms the material used is suitable for use in motor vehicles, must be produced
this evidence must confirm that the glazing complies with the Construction and Use Regulations or UNECE Regulation 43 (which refers to the acceptable type approval standards for glazing and safety glazing, including rigid and flexible plastic glazing used in motor vehicles)
Additional requirements for taxis fitted with an airbag system
where the vehicle is fitted with an airbag system (may be identified via markings or labels on the steering wheel, front dash board, B-posts, seats, head rests, trim panels, roof and so on) the presenter must produce documentary evidence from the original vehicle manufacturer, Type Approval Test House, authorised Dealership, authorised distributor, or professional vehicle converter that confirms the screen or partition is suitable for fitment in the vehicle and will not adversely impact on vehicle's safety systems, such as the airbag deployment
the documents must be vehicle specific and include make, model and registration number
Foldable plastic screens
there should be no rigid framing or supporting structure surrounding the screen
the partition/ screen must be appropriately secured for use in normal driving conditions (it is acceptable for these screens to be fixed with Velcro and/ or quick release push buttons)
the material must not pose a fire risk
the partition/ screen must be transparent and not adversely affect the driver's view of the road or distort or impair the view from interior or exterior mirrors
Authorised seating capacity
If the fitment of any screen affects the original seating capacity this will be taken into consideration during annual inspection and, where affected, the maximum seating capacity authorised for the vehicle may be reduced
DVA Enforcement Section is responsible for enforcing a wide range of legislation related to goods vehicles, buses and taxis. It also checks private cars and agricultural vehicles.  
Further information can be found at:
Further information about drivers' hours and tachographs can be found on at:
HGVs - when extra mirrors must be fitted
European Directive 2007/38/EC requires trucks over 3.5 tonnes and first registered on or after 1 January 2000, to be fitted with a wide angle mirror and a close proximity mirror - both mirrors are to be fitted on the nearside of the vehicle.
These additional mirrors are required to help drivers detect other road users in the areas immediately around their vehicles, to reduce the potential for collisions.
Check if your vehicle complies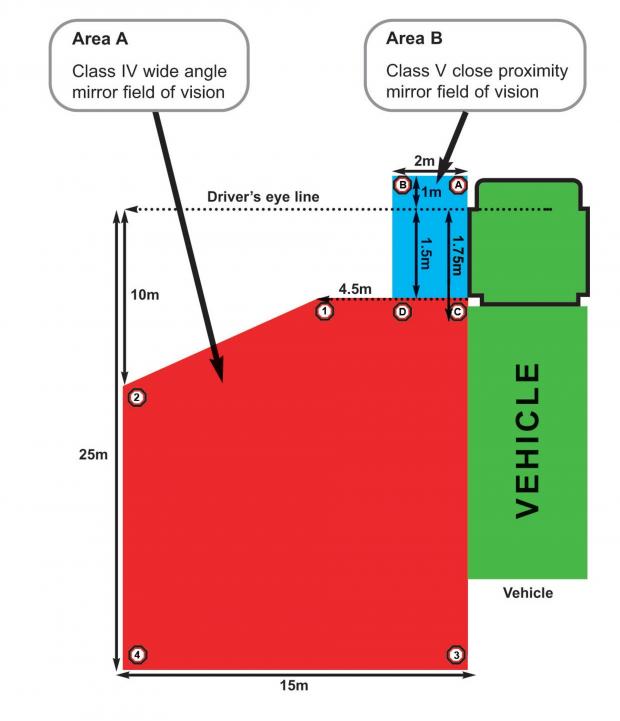 To check if your vehicle meets the 2007/38 Directive, or needs to be retrofitted, you will be required to carry out a field of view check.
With visible markers placed in the locations shown in the diagram (numbers 1-4) and (letters A-D) and your mirrors adjusted as required, when positioned in the driver's seat. Check if you can see the ground enclosed by the base of the markers. If you can, your field of view is compliant.
Remember the field of vision is important
If you do not have the required field of view, you should contact your vehicle manufacturer or supplier for advice.
Certain exemptions apply, for example, where it is not practicable to fit the close proximity mirror above the required two meters from the ground.
More useful links