Applying for a test
You can apply for a test using one of the following options:
If you use the online or telephone booking service, you will only be provided with a booking reference number. You will then need to contact a DVA centre to complete the booking process and receive the date and time of your appointment. During both booking processes, customers must select a test centre where their vehicle will be placed onto a pending list.
DVA Enforcement Section is responsible for enforcing a wide range of legislation pertaining to goods vehicles, buses and taxis. It also checks private cars and agricultural vehicles.
Further information can be found at:
Further information about drivers' hours and tachographs can be found on the link below
HGVs - when extra mirrors must be fitted
European Directive 2007/38/EC requires trucks over 3.5 tonnes and first registered on or after 1 January 2000, to be fitted with a wide angle mirror and a close proximity mirror - both mirrors are to be fitted on the nearside of the vehicle.
These additional mirrors are required to help drivers detect other road users in the areas immediately around their vehicles, to reduce the potential for collisions.
Check if you vehicle complies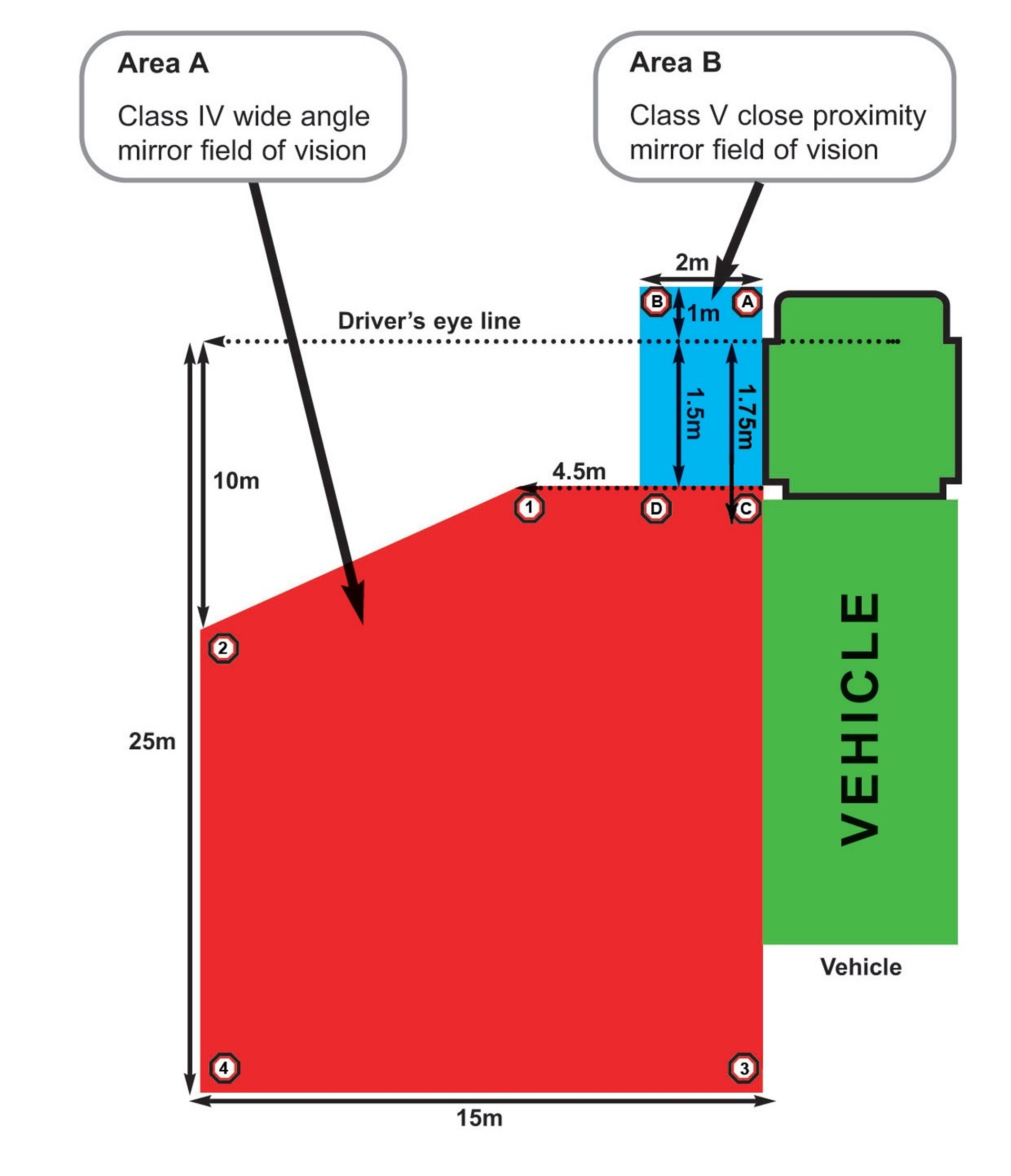 In order to check if your vehicle meets the 2007/38 Directive, or needs to be retrofitted, you will be required to carry out a field of view check.
With visible markers placed in the locations shown in the diagram (numbers 1-4) and (letters A-D) and your mirrors adjusted as required, when positioned in the driver's seat. Check if you can see the ground enclosed by the base of the markers. If you can, your field of view is compliant.
Remember the field of vision is important
If you do not have the required field of view, you should contact your vehicle manufacturer or supplier for advice. Certain exemptions apply, for example, where it is not practicable to fit the close proximity mirror above the required two meters from the ground.
More useful links