When a photo is needed
You must provide a recent passport type photograph that's in colour if you're applying for:
an optional renewal of your driving licence
* You will also need to provide proof of residency - there's further information about how to do this at the link below:
When you don't need a photo
You don't need to provide a photo if the reason you're applying for a licence is:
a change of name and/ or address
a duplicate (this is a copy of your existing licence)
To find out how to change your name and/ or address on your driving licence, go to:
If you need a duplicate of your driving licence, you'll need to apply to replace it.
If, however, your appearance has changed significantly, you'll need to apply for an optional renewal, and for that you'll need to provide a new photograph. To do this, you need to renew your driving licence.
The type of photo you need to send
Some driving licence applications are:
done online and therefore need a digital photo, while others are
on forms that you need to fill in and post together with a printed photo
Digital photos and printed photos have different guidelines. The table below shows which photo guidelines you need to follow.
Guidelines for digital photos
Use the following guidelines for digital photos. If your photo doesn't meet the rules, your application may be returned to you.
You can:
use an existing digital photo if it meets the rules below
get a friend to take a digital photo of you
this online service will not allow you to continue if you are unable to upload a digital photo or enter a photo code. The photo code is a new service and is available at the following locations:
County Antrim outlets
There are nine outlets offering the photo code service.
| Location | Address |
| --- | --- |
| Antrim | Timpson Limited, The Castle Centre Kiosk, 41 Market Square Antrim, BT41 4DN |
| Ballymena | Timpson Ltd, 5 Tower Shopping Centre, BT43 6AH |
| Ballymena | Snappy Snaps, 57a Tower Centre, Wellington Street, BT43 6AB |
| Belfast | Timpson Ltd, Unit 20B Castle Court Shopping Centre, BT1 1ED |
| Belfast | Snappy Snaps, 37 High Street, BT1 2AB |
| Carrickfergus | Max Spielmann, c/o Tesco 170 Newtownbreda Road, BT8 6PZ |
| Lisburn | Timpson Ltd, Unit B38 Bow Street Mall, BT28 1AW |
| Lisburn | Snappy Snaps, 10 Market Square North, BT28 1AG |
| Newtownbreda | Max Spielmann, c/o Tesco 170 Newtownbreda Road, BT8 6PZ |
County Down outlets
There are two outlets offering the photo code service.
| Location | Address |
| --- | --- |
| Bangor | TimpsonLtd, 12B Bloomfield Shopping Centre, BT19 7HB |
| Knocknagoney | Timpson Ltd c/o Tesco Knocknagoney Road, BT4 2PW |
County Armagh
There is one outlet offering the photo code service.
| Location | Address |
| --- | --- |
| Craigavon | Max Spielmann/Timpson Ltd c/o Tesco Highfield Road, BT64 1AG |
County Londonderry
There are four outlets offering the photo code service.
| Location | Address |
| --- | --- |
| Coleraine | Timpson Ltd, Unit 12 Diamond Centre, BT52 1DT |
| Coleraine | Snappy Snaps, 7 Kingsgate Street, BT52 1LB |
| Londonderry | Timpson Ltd Unit 1A, Level 4 Foyleside Shopping Centre, BT48 6XY |
| Magherafelt | Timpson Ltd, Unit 24 Meadows Shopping Centre, BT45 6PR |
Digital photo rules:
your photo must look like you and must have be taken in the last month
use a plain light-coloured background with no patterns or textures and don't have objects behind you
no shadows on your face or behind you - it's best to use natural sunlight, for example facing a window
stand 0.5 metres (1.5 feet) away from your background (this helps to stop shadows appearing)
the person taking the photo should stand 1.5 metres (5 feet) from you
include your head, shoulders and upper body in the photo and look straight at the camera
have a plain expression so don't smile or frown - eyes open and mouth closed
eyes fully visible, hair away from your face and eyes
take your glasses off if you can - if you need to keep your glasses on, your eyes must be visible without any glare or reflections
no sunglasses or tinted glasses
no headwear unless it's for religious or medical reasons
don't crop your photo - it will be done for you
The pictures below help to explain which photos follow the rules and shows those that don't. The following video also explains how to take a good digital photo: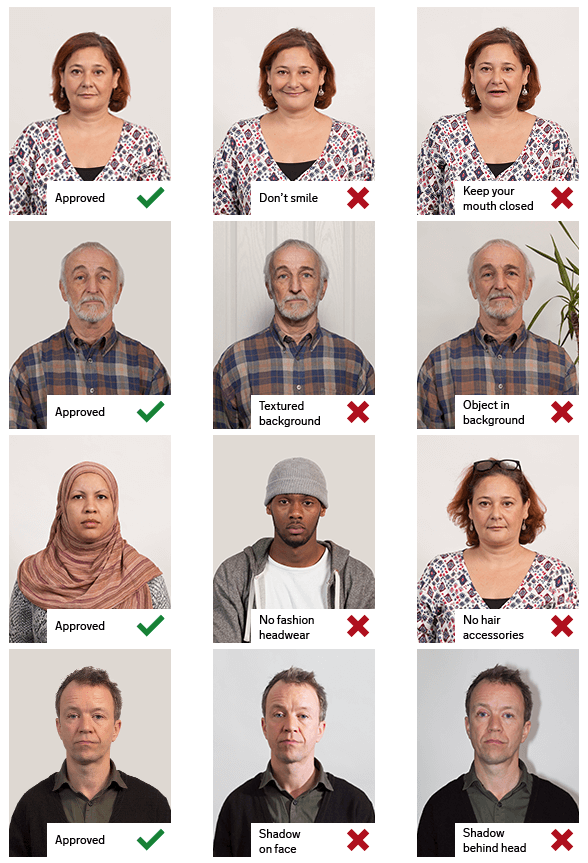 Guidelines for printed photos that are posted
The photo must be:
printed to a high quality, such as photos printed by a booth or studio (photographs printed at home are unlikely to be of a high enough quality)
taken within the last month, a true likeness of you and of your full head
in colour, not black and white, against a light grey or cream background
45mm high x 35mm wide (however, don't trim your photographs to meet this condition)
taken so that your eyes can be positioned in the area marked by the shaded band (see diagram below)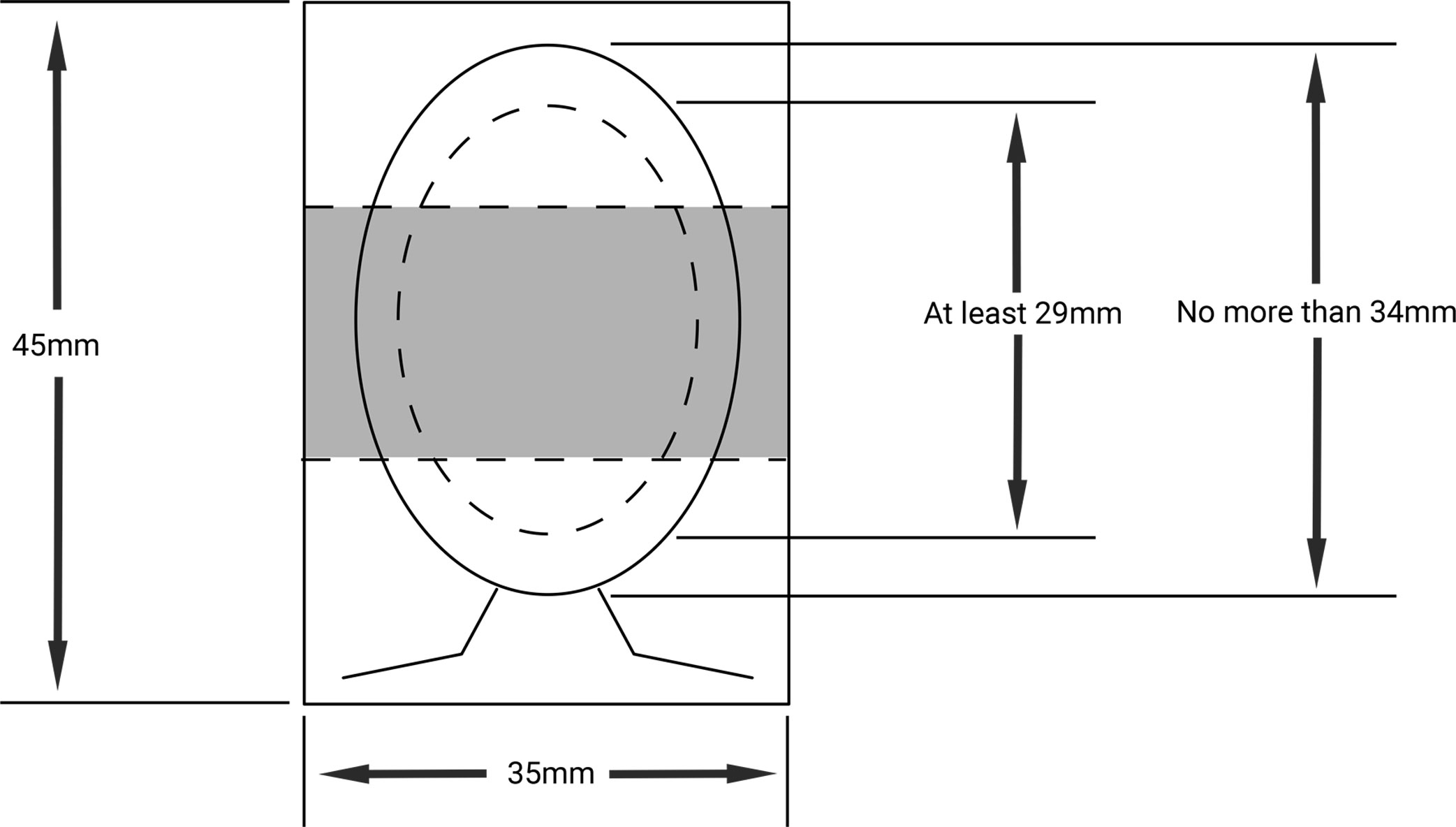 clear, in sharp focus, free from 'red eye' and with no shadow in it
free of any reflection or glare from glasses (where possible, remove your glasses to avoid the possibility of rejection)
of you on your own
in good condition, not damaged, creased, torn or marked
You must:
face forward and look straight into the camera with your eyes open and nothing covering your face
look natural with no facial expressions, for example, smiling, grinning or frowning
have nothing covering your eyes, for example, hair or glasses frame
not wear sunglasses or tinted glasses
not wear a hat or cover your head unless for medical or religious reasons
Having your photograph certified
This section only applies to printed photos that are posted together with driving licence application forms. (Therefore it does not apply to digital photos.)

If you're providing identity documents other than an up-to-date United Kingdom (UK) or other European Economic Area (EEA) passport, a valid UK Biometric Residence Permit or UK travel document, you must get an authorised person to sign the back of your photo.
More useful links