Think carefully about alcohol limits
Date published:
Drinking too much alcohol can have long-term effects on health. People should consider setting limits for themselves and keep an eye on how many drinks they're having. It's also important not to binge drink.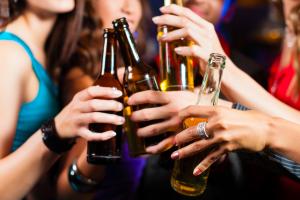 Effects of drinking
Alcohol guidelines recommend that both men and women drink no more than 14 units per week, to keep health risks from drinking alcohol to a low level.
If anyone does drink as much as 14 units per week, it's best to spread this evenly over three days or more – don't 'save up' your units for a particular day or a party.
Binge drinking is associated with particular risks to health, including damage to the liver, heart, brain and stomach. 
You can find out more on the how alcohol affects your health page.
If you're pregnant, or are trying for a baby, as a precaution you should not drink any alcohol at all.
Tips and advice
Some tips for managing your drinking:
eat before or while drinking and avoid salty snacks, which make you thirsty
be assertive – don't be pressured into drinking more than you want to
know your limits and stick to them
stay busy, don't just sit and drink - dance or have a game of pool if you're at a pub
try not to confuse large measures of alcohol with standard measures (for example, a glass of wine served at a party or at home may be much larger than the standard 125ml)
keep track of your drinks and don't let people top up your drink until it's finished
try alternating alcoholic drinks with water or other non-alcoholic drinks
add plenty of mixer to your drinks to make them last longer
avoid rounds, 'shouts' and kitties – drink at your own pace, not someone else's
drink slowly – take sips, not gulps
Mental health 
Alcohol can also have an impact on your mental health, and if you are hungover you can feel anxious and low.
If you think someone might be in need of immediate help, find out what to do at this link:
If you or someone you know is in distress or despair, call Lifeline on:
The helpline is available 24 hours a day, seven days a week.
More useful links