Think about fitting a carbon monoxide alarm
Date published:
Think about getting an audible carbon monoxide alarm for your home. You can be particularly at risk from carbon monoxide poisoning when you're asleep, because you may not be aware of the symptoms until it's too late. An alarm could save your life.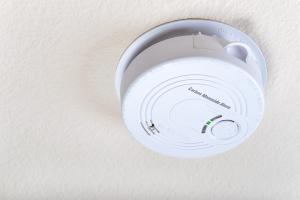 Instant warning
You should always make sure your fuel-burning appliances are properly installed, used and maintained.
All new homes in Northern Ireland must have a carbon monoxide alarm installed.
Audible alarms give an instant warning of dangerous carbon monoxide levels. The use of 'black spot labels/ cards' is not recommended.
You can find out more about the symptoms of carbon monoxide poisoning at the page below:
But alarms must not be regarded as a substitute for proper installation and maintenance of your fossil fuel-burning appliances.
Audible alarms
Audible carbon monoxide alarms come in many varieties and are manufactured by a wide range of companies.
They are sold online and in many shops, including DIY/ hardware stores, supermarkets and trade retail stores.
What to look for when buying an alarm
Before buying a carbon monoxide alarm, always make sure it complies with British Standard EN 50291 and carries a British or European approval mark, such as a CE or Kitemark.
Carbon monoxide alarms should be installed, checked and serviced in line with the manufacturer's instructions.
Particular attention should be made of the lifespan of the alarm, which can range from one to six years dependent on the manufacturer and the expected lifespan of the batteries. Some have replaceable/ removable units, while others are sealed in for the life of the unit.
Where to fit an alarm
Always read the manufacturers instructions for the correct and safe location for installation of the alarm.
It's not possible to give specific guidance on the exact location of a detector(s) which suits all types of premises and their usage.
Carbon monoxide is slightly lighter than air, therefore fitting carbon monoxide detectors at a low level is not recommended.
Once the alarm is fitted
Routine procedures recommended by the manufacturer (including testing) should be in the instructions supplied with the alarm and should always be followed.
Any alarms failing a routine test should be returned to the installer or supplier, or be replaced.
Never cover or paint over alarms once installed.
Always test your carbon monoxide alarm to the manufacturer's instructions.
More useful links