Raising awareness of baby loss
Date published:
The loss of a baby, whether it is through miscarriage, ectopic pregnancy, stillbirth, neonatally, or as an infant is devastating for parents and families. Support for parents and families is available from a number of sources.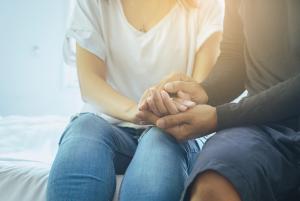 Miscarriage
If a pregnancy ends before 24 weeks, it is known as a miscarriage.
Miscarriages can be quite common early in pregnancy, particularly in the first three months. At least one in six confirmed pregnancies end in miscarriage.
Many miscarriages which happen early in pregnancy (before 14 weeks) can be because of problems with the baby.
There are other potential causes, such as hormonal or blood-clotting problems.
You can find out more at this link:
Ectopic pregnancy
An ectopic pregnancy is when a pregnancy develops outside of the womb. It can be serious, so it's important to get medical advice right away.
An ectopic pregnancy doesn't always cause symptoms. Sometimes it is detected during a routine pregnancy scan.
If you do have symptoms, they tend to develop between the sixth and 14th week of pregnancy.
Symptoms can include a combination of:
a missed period and other signs of pregnancy 
tummy pain low down on one side
vaginal bleeding or a brown watery discharge
pain in the tip of your shoulder
discomfort when going to the toilet
You can find out more at this link:
Stillbirth
A stillbirth is when a baby is born with no signs of life after 24 completed weeks of pregnancy.
If you're pregnant and are worried about anything - for example you have noticed your baby moving less than usual or you feel unwell - contact your midwife or doctor straight away.
Some stillbirths are linked to complications with:
the placenta
a birth defect
the mother's health
For others, no cause is found and the reason why a baby dies often can't be explained.
You can find out more at this link:
Sudden unexpected death in infants 
Sudden unexpected death in infants – sometimes known as 'cot death' – is the unexplained death of an apparently healthy baby.
Most deaths happen during the first six months of a baby's life.
It is rare and the risk of a baby dying from it is low.
You can get more information at this link:
Support
There are a number of organisations which offer support to those affected by the loss of a baby.
Support is available through helplines, group support, as well as one-to-one counselling.
The hospital where you had your antenatal care/ baby can also signpost you to bereavement services.
More useful links