Scabies
Scabies is a skin condition caused by tiny mites that burrow into the skin. It can be spread from one person to another. Visit your GP if you think you have scabies. It's not usually a serious condition, but it does need to be treated.
Symptoms of scabies
The main symptoms of scabies are intense itching and a rash in areas of the body where the mites have burrowed.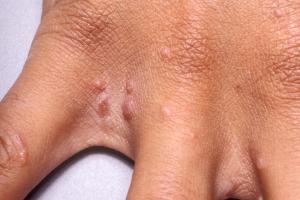 The itching is often worse at night, when your skin is warmer. It may take two to six weeks before the itching starts.

Symptoms will start within one to three days if you've had a scabies infection in the past.
The rash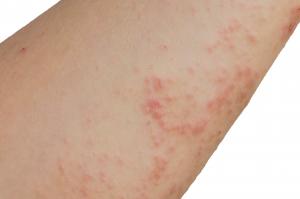 The scabies rash consists of tiny red spots. Scratching the rash may cause crusty sores to develop.

Burrow marks can be found anywhere on the body.
Adults and older children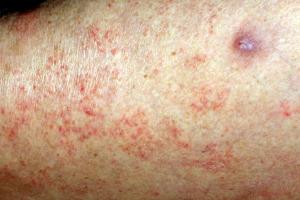 In adults, and older children, burrow marks often appear in the following areas:
the folds of skin between fingers and toes
the wrists
the elbows
armpits
around the belly button
pelvis and buttocks
ankles
around the nipples (in women)
around the genital area (in men) 
Burrows on the trunk (main body - not head, neck, arms and legs) are uncommon in adults.
Infants and young children
in infants and young children, scabies may also affect the face, head, neck, trunk, scalp, palms, and soles
young children often have widespread redness and scaling particularly on the trunk, and there may be many  crusted lumps on the skin of the trunk and limbs
scabies is rare in children under two months of age - your GP will probably need to refer your baby to the hospital for advice and treatment if scabies is suspected
 In older people, burrows commonly occur on the palms and soles and there may be a lot of them.
Those with a low immune system (immunocompromised) may also develop a rash on their head, neck, face and ears.
The scabies rash can become infected with bacteria - making the diagnosis more difficult. The infections include cellulitis, folliculitis, boils, impetigo, or lymphangitis.
Scabies can cause eczema or if you already have eczema, it can make it worse.
How scabies is spread
Scabies is usually spread through long periods of skin-to-skin contact with an infected person, or through sexual contact.
It's also possible – but rare – for scabies to be passed on by sharing clothing, towels and bedding with someone who's infected.
It can take up to eight weeks for the symptoms of scabies to appear after the initial infection.
Scabies outbreaks
About 100 people per 100,000 of the population talk to their GP about scabies each month.
The number of scabies cases is currently rising in Northern Ireland.
Scabies outbreaks can sometimes occur in places where there are lots of people. For example in schools, nurseries and care homes. If an outbreak occurs, the Public Health Agency will provide information about managing the outbreak.
Treating scabies
Visit your GP if you think you have scabies. It's not usually a serious condition, but it does need to be treated.
Your GP will discuss your treatment with you. The treatments most widely used are a cream and lotion.
If your partner has been diagnosed with genital scabies, to avoid reinfection you should visit your nearest sexual health clinic. This is so you can be checked and, if necessary, treated.
Avoid having sex and other forms of close bodily contact until both you and your partner have completed the full course of treatment.
More useful links
The information on this page has been adapted from original content from the NHS website.
For further information see terms and conditions.