UTV archive
A partnership between PRONI and Northern Ireland Screen has been set up to digitise key elements of the UTV archive and make them publically available. This partnership aims to safeguard this important part of Northern Ireland's broadcast heritage and to encourage public access to it.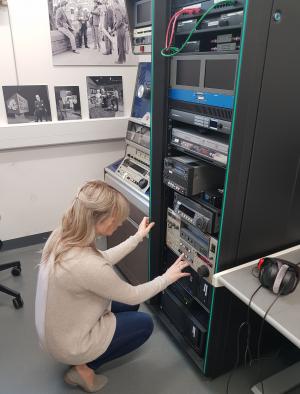 Access to digitised material from the UTV archive
The first point of access to the UTV Archive is the Digital Film Archive (DFA). Dedicated DFA kiosks are located in the PRONI search room and on the ground floor, where material can be viewed free of charge. Much of the UTV content on the DFA can be accessed anywhere with an internet connection. New content will be added as more material is digitised.
Access to material that has not yet been digitised
If you want to enquire about material within the UTV archive that is not yet available on the DFA, you can contact PRONI by email or letter (details below).  Complete a request form providing as much information about your request as possible. 

Public Record Office of Northern Ireland
2 Titanic Boulevard
Titanic Quarter
Belfast
BT3 9HQ

Email: access@communities-ni.gov.uk

Telephone: 028 9053 4800
Processing your request
You will be advise what records are held that may be relevant to your request. Facilitating access to material from the UTV archive depends on the item being available in an accessible format, the condition of the material, and securing permission from the copyright holder. Note public access to un-broadcast UTV news and programming is not permitted unless permission is secured from UTV. It may take time to investigate your request but you will be kept updated on progress. 
Viewing Material from the UTV Archive
Once your request has been processed, you can view material from the UTV archive in a viewing facility in PRONI on an appointment basis. Appointments must be made at least two weeks before viewing. If you need to cancel your appointment, you need to give at least 24 hours' notice.
If you are visiting PRONI for the first time, you need to register as a PRONI reader. See the registration section of the website for further information.
On arrival to PRONI, tell reception that you have an appointment to view material from the UTV collection. Reception will let a member of staff know that you've arrived and you will then be escorted to the UTV viewing facility.
Costs
There is no charge to view material from the UTV archive that is held on an accessible format. However, much of the UTV collection held at PRONI is in an inaccessible format and has not yet been transferred to a digital file or reference tape. In order to view or access any title that is on 16mm, 35mm, one inch or U-matic tape format, it must first be transferred (digitised), which will incur a fee.
If you wish to view material from the collection held on an inaccessible format, PRONI will forward your request to UTV, who will advise you of the costs involved. You can then decide if you wish to go ahead with your request. Once the material has been digitised, you can view it in the viewing facility in PRONI on an appointment basis. 
Lending and copying material
There is no lending or copying facility available.
Future use of material from the UTV archive
If you wish to quote from or reference material from within the UTV archive in print, online or through any other means, you must first contact PRONI for permission. For further information, email access@communities-ni.gov.uk
Academic researchers
All academic researchers must provide a written submission from their educational organisation in order for their request to be considered. Academic researchers who wish to access and view broadcast material which is held at PRONI in an accessible format should follow the steps above and have the same restrictions. Content is only available for viewing onsite at PRONI's facility and personal copies of material from the collection cannot be provided. 
Production companies and professional researchers
Any commercial requests for access to UTV material must be sent through to ITV, the copyright holder of material. You can contact ITV at clipsales@itv.com for further information.