Think about walking for shorter journeys
Date published:
You should think about leaving the car behind and walking for shorter journeys if you can. Walking is good for your physical and mental health, your wellbeing, and the environment.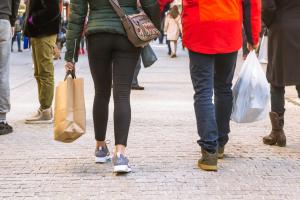 Reducing traffic and air pollution
In recent months more people have been choosing to walk as part of their journey or daily exercise.
Try to build walking into your normal everyday routine. For example, you could:
go for a walk at lunchtime - this can give you an energy boost for the afternoon
get off the bus a stop or two earlier than usual
walk to the shop instead of using the car
walk up flights of stairs, rather than use a lift
Not only will your own health benefit from walking more, but you'll help cut down on traffic congestion and reduce air pollution.
When out walking: 
use footpaths where available
always walk on the right hand side facing the oncoming traffic
You can find out more about the benefits of walking at this link:
Staying safe
There are a few simple rules for pedestrians that can keep you safe.