Risks of mixing alcohol and drugs
Date published:
Be alert to the risks of mixing alcohol and drugs. Most fatal overdoses involve the use of more than one type of drug. Any combination of prescription drugs, over-the-counter drugs, illicit drugs and alcohol can be dangerous.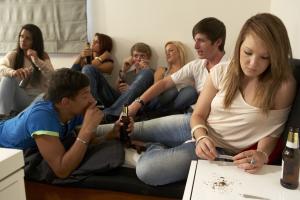 Damage to your health
It is, of course, safest to not use any drugs at all. But if you choose to drink alcohol, keep an eye on how much you're drinking and never mix with other drugs. The combination could be toxic and cause serious damage to your health.
The advice is to always drink in moderation, taking no more than 14 units of alcohol per week, and spread them out evenly over the week. Fourteen units is the same as around five pints, so you can see how quickly the units add up.
If you want to keep a closer eye on your drinking and learn more, visit the 'virtual bar' app on the Drugs and Alcohol NI website. 
Drugs
Always remember that taking any other drugs, and taking them along with alcohol, carries additional risks.
Alcohol and drugs can also affect your decision-making, which could leave you feeling vulnerable.
Too much alcohol or any drug use can mean you might take more risks. This includes having sex when you normally wouldn't or, when you do, not using a condom.
You could become involved in anti-social behaviour, get in fights and act in ways that can have long-term consequences.
You can find out more information at these links:
Advice
To keep health risks to a minimum:
drink alcohol in moderation (no more than 14 units per week for both men and women, spread evenly throughout the week)

avoid taking illicit drugs

only take medication that has been prescribed by your doctor and as they have instructed

ask your doctor whether you need to avoid alcohol while taking a medication they have prescribed for you
If someone has taken drugs and is feeling unwell, call the emergency services immediately.
More useful links