Reduce the risk of burst pipes
Date published:
With the weather colder, it's important to prepare for freezing conditions. Damage as a result of burst pipes is a possibility over the next few months. However, with some simple precautions the risk can be reduced.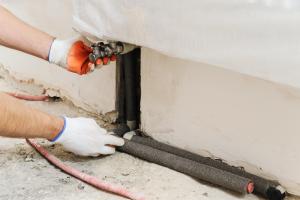 Protecting from frost
The devastation caused by burst pipes cannot be underestimated. Potential repairs alone can run into many thousands of pounds.
Not only can the water cause structural damage to a property, but also to electrical equipment and personal items, including photographs that may not be replaceable.
Taking the following simple steps will significantly reduce the risk of frozen or burst pipes:
insulate water tanks and pipes in unheated areas like lofts, garages and outbuildings
fix dripping taps – a gentle trickle of water can freeze and completely block the pipe
find your internal stop tap/ valve - it is usually, but not always, under your kitchen sink and normally closes by turning clockwise
service the boiler regularly
make sure doors and windows from unheated parts of your house are kept closed and try and stop any draughts from outside
if you are away from home during the winter period, open the trap door into the roofspace to allow some of the warm air to circulate (this should be a temporary measure only, as it will cause condensation - tanks and pipes should be insulated)
if you are away from home leave the heating on low and you could leave a key with someone who can check the house regularly
write down the contact details of a registered plumber in case a pipe does burst
You can get more information at this link:
If a property is not in use or occupied for a long period of time it is advisable to turn the water supply off at the stop tap. You should maybe even consider draining down the system.
There is more information on the NI Water website.
Dealing with frozen pipes
Most frozen pipes are found in the roofspace and below sink units. If you discover a frozen pipe, you should:
turn off the water supply at the stop tap/ valve
thaw along the pipe, starting from the end nearest the tap
don't use a blow lamp or naked flame
put hot water bottles or a thick cloth soaked in hot water over the frozen pipe or use a hair dryer at its lowest setting to thaw pipes (be careful not to warm them too quickly)
don't leave taps dripping or running - the water may not flush down the plug hole if the pipes below are frozen
Burst pipes
If a pipe bursts, you should:
turn off the stop tap/ valve
try to block escaping water with thick cloth (for example, towels)
turn on all taps to reduce flooding
call a qualified plumber
don't forget to turn off taps once the problem is fixed to avoid further flooding
Reporting a problem
If you are out of water, first check with your neighbours.  If they have water, it is likely that the problem is with your internal pipework. Call a plumber to have the problem fixed.
If your neighbours are without water, it could be a burst watermain. Call NI Water's Waterline on 03457 440088 to report the problem.
If you are a Housing Executive tenant and need an emergency repair, you should contact your local District Office during office hours.
You can also contact the emergency out-of-hours service on:
More useful links