Pregnant women reminded to get whooping cough vaccine
Date published:
Women who are 16 or more weeks pregnant are reminded to get vaccinated against whooping cough (pertussis). This will help to protect children from birth until they are old enough to be immunised themselves.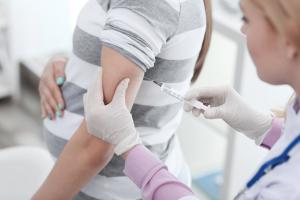 Getting vaccinated
The best time to get the vaccine is between 16 and 32 weeks of pregnancy, but if a woman misses out she can still get it later in pregnancy. 
However, the best protection to the baby is when the mother gets the vaccine as close to the recommended time as possible.
The vaccine is given at GP surgeries.
The baby's risk of being infected is reduced by more than 90 per cent if the mother gets the vaccine.
You can find out more at this link:
Whooping cough
Whooping cough (pertussis) is a disease that can cause long bouts of coughing and choking which can make it hard to breathe. 
It can be very serious for infants under the age of one year, and even fatal for young babies.
Parents should be alert to the signs and symptoms of whooping cough, which include severe coughing fits along with the characteristic 'whoop' sound in young children, and a long cough in older children or adults.
Very young babies may not develop the 'whoop' but have severe coughing bouts and can't catch their breath.
It's also advisable to keep babies away from anyone showing the signs and symptoms of whooping cough.
More useful links