Prisons Memory Archive
The Prisons Memory Archive (PMA) is a collection of 161 filmed recordings with individuals who had a connection with Armagh Gaol and the Maze and Long Kesh Prison during the conflict in and about Northern Ireland.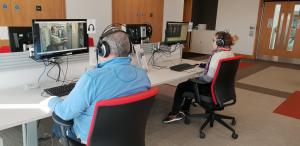 Those who participated in the recordings
The recordings were made in 2006 and 2007. The range of participants includes prison staff, prisoners, relatives, teachers, chaplains, lawyers, doctors, probation officers and maintenance workers.
The work of the Prisons Memory Archive is under-pinned by an ethical framework of life- storytelling, co-ownership and inclusivity.
Visual Voices of the Prisons Memory Archive
The Visual Voices of the Prisons Memory Archive project has been developed through a partnership with Queen's University Belfast, PRONI and the PMA Management Group (which includes representatives of the groups who have made the recordings).
The main objectives of this project were to preserve the participant recordings, to make the collection more accessible through digital innovation and to engage with communities to help people learn more about shared heritage.
Funding was secured from the Heritage Lottery Fund to transfer the entire PMA collection to PRONI between 2017 and 2021. The recordings will be stored securely in PRONI's digital repository and made available through the PRONI catalogue. 125 recordings have transferred to PRONI and can be accessed through designated PCs in the PRONI search room.
Although the project is now finished, PRONI will continue to work with QUB and the Prisons Memory Advisory Board to make sure that the necessary work on the remaining 36 recordings is completed and the entire archive is preserved in PRONI.
Details of the recordings are available via the PRONI e-catalogue under the reference number D4616/2.  Note that some people may find some of the content in these recordings distressing. 
For more information, visit the Prisons Memory Archive website. On the website, you will find selected extracts and full recordings, as well as shorts and feature films based on the PMA.