Driving in Northern Ireland – road safety for visitors
Driving in Northern Ireland is governed by rules in the Highway Code. You may find it useful to refer to the Code to better understand how driving here may differ from your own location. There are some differences and knowing these could help you to drive safely during your stay.
Driving licence
You should always carry a valid driver's licence and proof of vehicle insurance when you drive. It is a criminal offence to refuse or give false details when needed to do so.
You can use your national driving licence but must have reached the minimum age to drive a vehicle in Northern Ireland. 
You must be:
17 years or over to ride a motorcycle with a cylinder capacity not exceeding 125cc, or power not exceeding 11kW
19 years or over to ride a motorcycle not exceeding 35kW
21 years or older to ride a motorcycle unlimited in size/ power
17 years old or more to drive a car
A provisional (learner's) driving licence issued abroad is not valid for use in Northern Ireland.
Motor insurance
You must not drive a vehicle from abroad in Northern Ireland without adequate motor insurance. If you do not hold an insurance certificate valid for Northern Ireland, arrangements should be made before travel.
The minimum cover is third-party insurance.
If driving a rented vehicle you should make sure that any insurance provided covers driving in Northern Ireland and in Republic of Ireland if you will drive in both.
Vehicles
Vehicles in Northern Ireland are usually fitted with the driver seat on the right-hand side of the vehicle and vehicles are driven on the left-hand side of the road.
You should take time before driving off to familiarise yourself with the various controls in the vehicle especially steering, foot-pedals, gear-stick, lights, indicators and wipers.
You should adjust things such as your seating, mirrors, lights to make sure that you can drive the vehicle safely and with comfort.
Lights
You must use:
sidelights between sunset and sunrise
•  headlights at night (between half an hour after sunset and half an hour before sunrise)
•  headlights when visibility is seriously reduced - generally to less than 100m
You may use front and rear fog lights when visibility is reduced but must switch them off when visibility improves.
You must not use any lights in a way which would dazzle or cause discomfort to other road users, including pedestrians, cyclists and horse riders.
If you are driving a left-hand drive vehicle you should make sure that, if used, the headlights are adjusted for driving on the left, or you risk being stopped by the police and as a result fined up to £1,000.
Rules of the road
Always drive on the left side of the road unless road signs or markings show different.
You must remember to keep left every time you drive, every time you come to an intersection and every time you pull out on to a road.
Always check for other road users and signal your intentions before driving off, changing position on the road, changing direction or stopping and parking.
Do not cross the centre line unless safely passing or turning off the road.
Many roads have a single lane each way and some provide passing lanes at intervals. Some narrow roads don't have centre line markings to guide you.
You must never cross a solid white line on your side of the centre line to overtake a vehicle, as this shows it is too dangerous to overtake.
A double white centre line means that no traffic (on either side of the road) can overtake other vehicles.
If you do not have a solid white line on your side of the centre line, it is only safe to overtake when you can see that the road ahead is clear.
Think before overtaking and never overtake on or near a corner.
On a two lane dual carriageway you should use the left hand lane and only use the right hand lane for overtaking slower moving traffic and return to the left hand lane when it is safe to do so. You may need to use the right hand lane if turning right on a dual carriageway.
If you find you are travelling slower than other traffic and there is a line of traffic behind you, find a safe place to pull over and let them go past.
At a stop sign, you must come to a complete stop, then give way (give priority) to all traffic.
At a give-way sign, you must give way to all traffic on the intersecting road.
If turning, you must also give way to vehicles that are not turning.
Speed limits
Speed limits are the absolute maximum speed you should drive at for a particular road and you should always reduce your speed to take account of:
road condition
the presence of other users, particularly vulnerable users like

 walkers, cyclists and motorcyclists

weather conditions
visibility 
time of day
Speed limits in Northern Ireland are shown in miles per hour (mph) while speed limits in the Republic of Ireland are shown in kilometers per hour (km/ h).
The most common speed limits you will find in Northern Ireland are:
in built up areas: up to 30 mph unless shown different
outside built up areas: 60 mph
motorways and dual-carriageways up to 70 mph
variable speed limits set by overhead signs/ roadside signs may be seen on motorways
20 mph limits are increasingly common in built up areas
For more information see: Rule 123 Highway Code NI
A car towing a caravan or trailer:
must not use the outside lane of a motorway with three or more lanes
be restricted to 50 mph on single carriageway roads outside built-up areas
be restricted to 60 mph on dual carriageways and motorways
Seat belts and children in cars
If fitted, seat belts must be worn in the front and rear of vehicles by all occupants.
Children under three years old:
must use a child restraint suitable for their age/ weight in any vehicle (including vans and other goods vehicles)
the only exception is that a child under three may travel unrestrained in the rear of a taxi if the right child restraint is not available
rear-facing baby seats must not be used in a seat protected by a frontal air-bag unless the air-bag has been deactivated
Children three to 11 years and under 135cm in height:
must use a suitable child restraint at all times when travelling in the front seat
must use the right child restraint in the rear where adult seat belts are fitted
can use an adult seat belt in the rear: in a taxi, if the right child restraint is not available, for a short and occasional trip if the right child restraint is not available, where two occupied child restraints in the rear prevent the use of a third
The driver is responsible for keeping to this law for children under 14 years and the fine varies between £30 and £500.
Drinking and driving
The maximum level of alcohol allowed in the blood is 0.08 per cent.
The police may also carry out tests to detect a driver who may be under the influence of narcotics.
A positive reading for excess alcohol or a positive reading for several drugs will result in prosecution.
Some psychotropic medications may be included – drivers must ask as to the acceptable safe dosage for driving and they must carry a prescription on board their vehicles.
Traffic light signals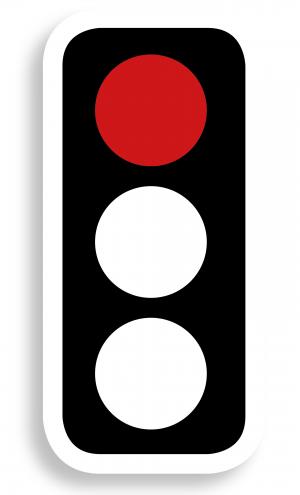 Red means Stop.
Wait behind the stop line on the carriageway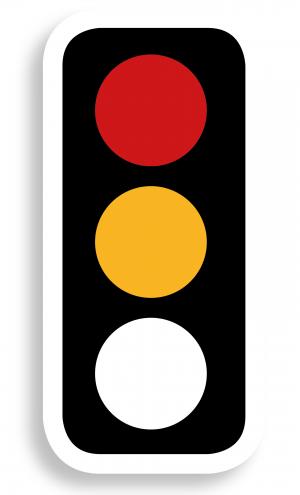 Red and amber also means Stop. Do not pass through or start until green shows.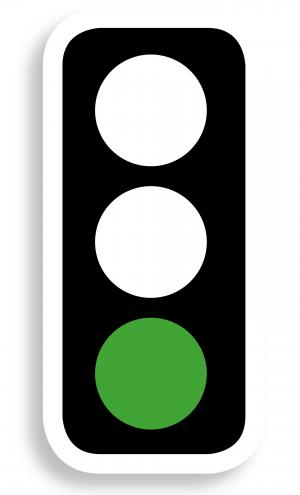 Green means you may go on if the way is clear. Take special care if you are going to turn left or right and give way to pedestrians who are crossing.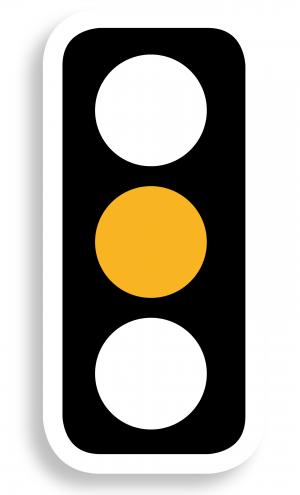 Amber means Stop at the stop line. You may go on only if Amber appears after you have crossed the stop line or are so close to it that to pull up might cause a collision.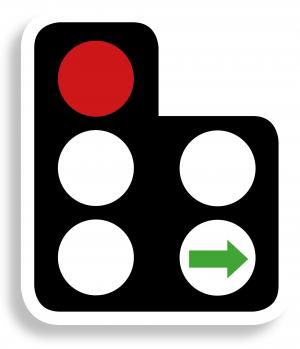 A green arrow may be provided as well as the full green signal if movement in a certain direction is allowed before or after the full green phase.
If the way is clear you may go but only in the direction shown by the arrow. You may do this whatever other lights may be showing.
White light signals may be provided for trams.
For more information go to: Highway Code signs and markings
Box junctions
At some intersections called box junctions, criss-cross yellow lines are painted on the roadway. You must not enter 'the yellow box' (that is, the area of yellow lines) unless your exit road or lane is clear.
Roundabouts
At roundabouts, you must give way to traffic from your right. You must travel around the roundabout in a clockwise direction.
Rail crossings
Approach with caution:
• if red lights are flashing, stop and only go once the lights have stopped flashing
• if you see a stop sign at a rail crossing, stop and only cross the track if there are no trains approaching from either direction
• if you see a give way sign, slow down and be ready to stop and only cross the track if there are no trains approaching
Sharing the road
The Highway Code tell you when you should give way to other users.
You must watch for people crossing the road, particularly at pedestrian (or zebra) crossings and intersections.
Always slow down near cyclists. Pass slowly and only when safe, and try to leave a space of 1.5 metres.
If you see animals on the road, slow down and move on carefully. Do not sound your horn.
Watch for bus lanes
Be aware that in some cities and certain parts of motorways, there are bus lanes shown by road signs, the words bus lane painted in large letters across the road and occasionally the bus lane will be coloured red.
Only public buses and emergency service vehicles are allowed to use this lane (taxis, motorcycles, bicycles can if the bus lane signs show this). Anyone else will be photographed (automatic cameras) and fined £60 for using this lane.
Mobile phones
It is illegal to use a hand held mobile phone while driving in Northern Ireland.  The advice is to turn it off or put it on silent until you can pull the car in somewhere safe or until you reach your destination.
Motorcycles
If you are riding a motorcycle, scooter or moped you must wear a safety helmet of an approved design. This also applies to passengers, except those in sidecars. The helmet must be manufactured to a standard similar to the British Standard.
Use of headlights during the day is recommended.
Cyclists
For drivers
Cycle lanes are shown by road markings and signs.
You must not drive or park in a cycle lane marked by a solid white line during its times of operation.
Do not drive or park in a cycle lane marked by a broken white line unless it is unavoidable.
You must not park in any cycle lane whilst waiting restrictions apply.
For cyclists
Cycle lanes are marked by a white line along the carriageway. When using a cycle lane, keep within the lane and before leaving it, check that it is safe to do so and signal your intention clearly to other road users.
Cycle lanes in Northern Ireland are green; but in the Republic of Ireland and Great Britain they are red.
Advanced stop lines
Some signal-controlled junctions have advanced stop lines to allow cycles to be positioned ahead of other traffic.
Motorists, including motorcyclists, must stop at the first white line reached, and should avoid blocking the way or encroaching on the marked area at other times, such as for example, if the junction ahead is blocked.
If your vehicle has moved over the first white line at the time that the signal goes red, you must stop at the second white line, even if your vehicle is in the marked area.
Allow cyclists time and space to move off when the green signal shows.
Road traffic in the Republic of Ireland
Always drive on the left side of the road in the Republic of Ireland - like in Northern Ireland.
Tolls
Northern Ireland does not have tolls on the road.
When driving in the Republic of Ireland you will meet toll booths on major motorways.