Baronies
Although baronies don't exist anymore, a barony was an administrative area that survived from feudal times to the 19th century and is mid-way in size between a county and a parish.
There were 59 baronies
There were 59 baronies which now make up the present-day Northern Ireland. The map shows baronies in the six counties of Northern Ireland.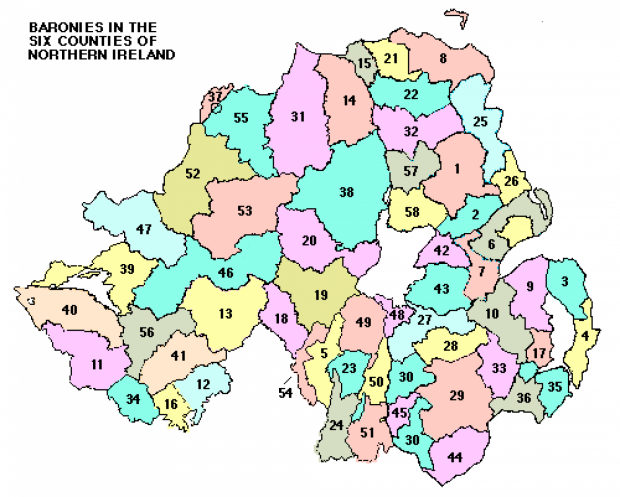 Alphabetical list of baronies 
   Antrim Lower
   Antrim Upper
   Ards Lower
   Ards Upper
   Armagh
   Belfast Lower
   Belfast Upper
   Cary
   Castlereagh Lower
   Castlereagh Upper
   Clanawley
   Clankelly
   Clogher
   Coleraine
   Coleraine, North East, Liberties of
   Coole
   Dufferin
   Dungannon Lower
   Dungannon Middle
   Dungannon Upper
   Dunluce Lower
   Dunluce Upper
   Fews Lower
   Fews Upper
   Glenarm Lower
   Glenarm Upper
   Iveagh Lower, Lower Half
   Iveagh Lower, Upper Half
   Iveagh Upper, Lower Half
   Iveagh Upper, Upper Half
   Keenaght
   Kilconway
   Kinelarty
   Knockninny
   Lecale Lower
   Lecale Upper
   Liberties of Londonderry
   Loughinsholin
   Lurg
   Magheraboy
   Magherastephana
   Massereene Lower
   Massereene Upper
   Mourne
   Newry, Lordship of
   Omagh East
   Omagh West
   Oneilland East
   Oneilland West
   Orior Lower
   Orior Upper
   Strabane Lower
   Strabane Upper
   Tiranny
   Tirkeeran
   Tirkennedy
   Toome Lower
   Toome Upper
   Carrickfergus
More useful links