Abdominal aortic aneurysm screening programme
The aorta is the main artery in your body. It runs from your heart to your stomach. As some people get older, the wall of the aorta in the stomach weakens and expands to form an abdominal aortic aneurysm. Screening can detect an aneurysm by the width of the aorta.
Abdominal aortic aneurysm (AAA)
Most people with an Abdominal aortic aneurysm (AAA) don't have any symptoms.
Men at risk of having an AAA
Men are more likely than women to have an AAA.
The risk of developing an AAA depends on your age and genes. If you're the close relative of an affected person, you're more likely to get an AAA.
You could increase the risk of having an AAA if you:
You can have an AAA even if you aren't in any of the above categories.
AAA screening programme
The Northern Ireland AAA Screening Programme invites men in their 65th year to screening.  The programme doesn't screen women.
You must be registered with a GP.
If you're a man, aged over 65 and haven't yet been screened, you should contact the central screening office:
Due to a pause in the programme during the COVID-19 pandemic, there is a delay in initial screening invitations as the programme works through the backlog.
How screening for an AAA can help
Screening is a scan of your abdomen.
By screening, it is possible to detect, monitor and treat most abdominal aortic aneurysms.
This reduces the risk of an aneurysm bursting and causing internal bleeding or death.
This type of scan doesn't look for any other health conditions.
AAA screening programme video
In the following video, consultant vascular surgeon, Paul Blair, discusses the AAA screening process. 
In the video at the link below, find out more about Brian's screening journey.  
Brian found out he had an abdominal aortic aneurysm when he went for his routine screening test.
With no symptoms before his test, Brian says attending his appointment saved his life.
AAA screening leaflets
The programme has a suite of leaflets and promotional materials which are available on the Public Health Agency website.
AAA invite leaflet

AAA small leaflet

AAA medium leaflet

AAA large leaflet

AAA A3 poster

AAA A5 flyer

AAA wallet card
The invite leaflet is for all men invited to take part in the screening programme. It includes all the information you need about AAA screening before your appointment.
The small, medium and large AAA information leaflets are for men who have been diagnosed with an AAA through the screening programme and provide details of what happens next.
The flyer, poster and wallet cards aim to raise awareness of the screening programme and give a summary of AAAs, the dangers they pose and the screening process.
Screening people with a family history of AAAs
If your brother, sister or a parent has or had an AAA, you should ask your GP about getting an ultrasound scan.
Men and women can do this if their close relative had an AAA.
This screening is not part of the screening programme.
Your screening appointment
Your screening invitation has your appointment time, date and location in your Trust area.
To change your appointment time, date or location, you need to contact the central screening office.
There are screening clinics in all trust areas. You go to a screening clinic in your area. The clinic could be in a:
community hospital
GP surgery
health and care centre
health and wellbeing centre
If you need more information about clinics, contact the screening programme office.
What happens during AAA screening
A screening technician uses an ultrasound probe to scan your abdomen for an AAA. The monitor displays an image of your aorta. The screening technician measures the diameter and knows if you have an AAA. They tell you the results immediately.
Deciding against being screened for an AAA
It's your choice to have screening for an AAA. If you're invited to screening but don't want to go, contact the screening office on 028 9615 1212. They will take you off the list.
What screening results can show
You will get one of five possible results from the scan:
you have a normal aorta
you have a small AAA
you have a medium AAA
you have a large AAA
non-visualisation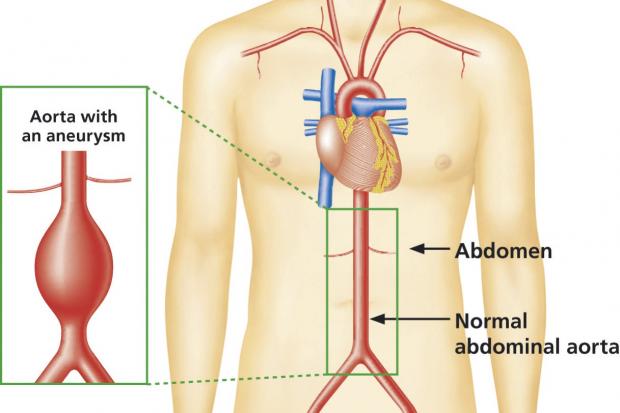 Normal aorta
When your result is normal, you don't need AAA screening again or any treatment.
Small AAA
This means your aorta is wider than 30mm but less than 45mm. You will need a monitoring scan every year to check if the AAA is growing.
Medium AAA
This means your aorta is between 45mm and 54mm wide. You will need a monitoring scan every three months to check if the AAA is growing.
Large AAA
This means your aorta is more than 55mm wide. You will need an assessment for surgery. Your assessment appointment will take place within three weeks of your diagnosis.
Non-visualisation
If the screening technician cannot see your aorta clearly at your first appointment, you will need a second scan:
at a different screening clinic

in a hospital
You will get support and advice about:
stopping smoking
diet, weight management and exercise
lipid modification and statin therapy
prevention, diagnosis and management of high blood pressure
prevention, diagnosis and management of diabetes
drug therapy and anti-platelet agents
When screening detects a small or medium AAA
If you have a small or medium AAA:
you'll get a leaflet explaining what happens next
a specialist nurse will contact you within two working days
the clinic will tell your GP
The nurse will give you lifestyle advice that could slow the growth of your AAA. They will tell you about:
Treating a large AAA
If detected early, surgery is suitable for most large AAAs. When you're diagnosed with a large AAA, the vascular surgeon will discuss treatment with you. They will explain two operations:
replacing the aneurysm with an artificial artery
repairing the aneurysm with stents through your arteries
Drivers or motorcyclists diagnosed with an AAA
If you hold a heavy goods vehicle (HGV) licence and are diagnosed with an AAA of any size, you must tell the Driver & Vehicle Agency (DVA).
They will suspend your HGV licence if your AAA is 55mm wide or more.
If you're a motorcyclist or hold any other driving licence and are diagnosed with an AAA 60mm wide or more, you must tell the DVA.
They will suspend your driving licence if your AAA reaches 65mm wide or more.
They will reinstate your licence when you've had successful treatment for the aneurysm.
More useful links