Think about fire safety over the Christmas period
Date published:
Be aware of fire safety over the Christmas period and check in on older or vulnerable people. You should also make sure that everyone in your house knows what to do if there is a fire and how to escape safely.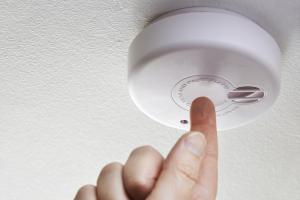 Extra fire risks at Christmas
Don't become complacent about fire safety. You should:
have a working smoke alarm fitted on all levels of your property
test your smoke alarm(s) every week and make sure to replace the battery or the smoke alarm if it isn't working
Christmas is a time when extra fire hazards are in the home, including:
candles
portable heaters
open fires that haven't been lit for a long time
Christmas tree lights
overloaded sockets
Fires can start easily. To reduce the risk of fire over the festive period, you should:
check that your Christmas lights conform to the British Standard
never use lights with worn or frayed cables  
turn off lights at night or when you are leaving the house
never place candles near your Christmas tree, decorations, wrapping paper or furnishings 
put candles in a purpose-made holder and on a heat-resistant surface
never put candles under shelves 
never leave burning candles unattended and make sure they are out of reach from children and pets
never attach decorations to lights or heaters
never overload electrical sockets  
never leave a cooker unattended and switch off cooking appliances after use- most fires start in the kitchen
make sure cigarettes are completely stubbed out and never smoke in bed
keep candles, lighters and matches out of the reach of children
keep heaters away from soft furnishings and decorations

have a working smoke alarm fitted on all levels of your property

make a fire escape plan and discuss it with your family and keep your escape routes clear

make sure any visiting family and friends are aware of the fire escape plan and tell them where you keep door keys

if a fire starts, get everyone out of the property and close all doors behind you - phone 999 
You can find out more about fire safety at the following links:
You should try and celebrate Christmas and New Year safely – the risk of accidents is greater after drinking alcohol.
Older or vulnerable people
Check in with older family, friends, neighbours and those who are isolated in the community and make sure they have a working smoke alarm. Advise them of steps they can take to help 'STOP' fire in their home. 
If you're worried about the fire safety of someone in your community you can register them for a free Home Fire Safety Check.
If you hear a neighbour's smoke alarm going off, don't ignore it - go and check.
If there's a fire, or if you can't be sure, phone 999.
More useful links