Think safety before starting any job on the farm
Date published:
Deaths or injuries on farms happen much more often than they should. Farmers are asked to think safety before starting any job to help make farms safer places to work and live.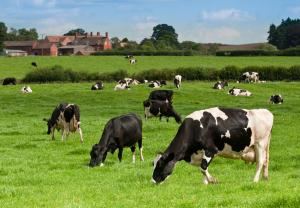 Preventing accidents 
Most farming accidents are avoidable. But tragically, most accidents are caused by things such as habit, haste, fatigue, and improperly-maintained machinery.
Safety must never be an afterthought. By taking just a few minutes to think about the job ahead, accidents can be prevented by using simple safety practices.
Machinery
Poorly used or faulty machinery is a major cause of death and injury on farms.
Farmers come into contact with a host of machinery daily which can bring dangers, such as tractors, combines, choppers and hay balers.
People can be injured by front-end loaders, falling from a moving tractor, or being struck by its wheels.
Also, hands, hair and clothing can be caught by unguarded PTO shafts or other unguarded moving parts, such as pulleys and belts.
Farmers are encouraged to take the appropriate steps before doing any repair work on machinery.
There is safety advice at the following links:
Animals
Livestock can be unpredictable, something that even the most experienced farmer can't completely plan for.
Handling livestock always involves a risk of injury, and this is increased when an animal becomes frightened or has been startled.
Animals will fiercely defend their food, shelter, territory and young. When frightened or in pain, animals may react in ways that threaten your safety as well as their own.
You can find advice at these links:
Falls
Farming carries an above-average risk of falling accidents. Any fall from height can lead to long-term injuries or sadly even death.
While working at heights is always a risky business, there are several things which can be done to reduce those risks. There is advice at this link:
More farm safety information
You can find out more about farm safety on the links below:
Always take your time to think about what you are doing, as making a few simple checks could actually save a life – maybe your own.
More useful links