Spotting the symptoms of prostate cancer
Date published:
Prostate cancer is now easier to detect and treat but it is important that men seek advice as early as possible. Knowing the signs that show a potential prostate problem can help lead to timely treatment.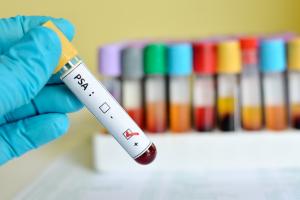 What to look out for
The chances of developing prostate cancer increase as a man gets older, with most cases developing in men aged 50 or older.
For many men in the early stages of the disease, there are no symptoms to alert them to prostate cancer. The prostate tends to become bigger with age and because of its position can cause problems with urination. But symptoms may include:
needing to urinate more often, especially at night
needing to rush to the toilet or passing urine when you don't expect to
difficulty starting or straining to pass urine
taking a long time to finish, with dribbling at the end
a weak flow
a feeling that your bladder has not emptied properly
If you have any of these symptoms, it is important to find out whether it is cancer or not, so you should visit your GP for further advice.
You can find out more at the page below:
The majority of prostate problems are not cancer.
Prostate cancer, once diagnosed, responds well to treatment and may be cured.
More useful links