Information about public sector industrial action
Date published:
Some trade unions are asking their members to take part in strike action this month, including on Friday 22 September. As a result, government departments, agencies and public sector organisations cannot guarantee business as usual. There may be reduced services.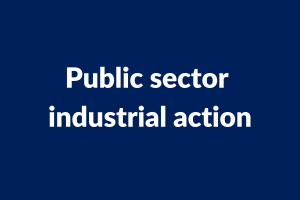 Public services and contact details
A range of public services may be affected by the industrial action.
If you plan to visit a public sector office, it may be advisable to contact them before starting your journey. You should find the phone number you need at this link:
There may be some disruption to telephone services and call waiting times.
Benefits and financial support
Reduced services may be operating due to industrial action. You can get general information about benefits and other financial support at the following page:
Benefits payments due on Friday 22 September will still be paid by that date.
Jobseeker's Allowance signing is excused on Friday 22 September.
Universal Credit online claim services are available but there may be delays in response times.
Customers may experience increased call waiting times on telephone services.
Careers 
The careers webchat service may be operating a reduced service, however careers advisers can still by contacted by using the Ask Careers online form or by phoning 0300 200 7820. Normal response rates may be affected, but every effort will be made to respond as soon as possible.
There is also lots of useful information in the careers section. 
Courts and tribunals
Some courts are cancelled and the cases listed adjourned to another date. Anyone due to go to court on Friday 22 September may wish to check Court Lists- Search Screen beforehand.  
Tribunal, Planning Appeal Commission, and Water Appeal Commission hearings scheduled for Friday 22 September are proceeding as planned. Two Parole Commissioner hearings have been rescheduled.
Inquests (Coroners Service and Legacy Inquest Unit) – Coroners Service hearings are proceeding as planned. The Legacy Inquest Unit Patrick Duffy preliminary hearing has been rescheduled.
The public counter in all courthouse venues will stay open on Friday 22 September, except for the Royal Courts of Justice in Belfast where a dropbox will be available with users directed to office counters for urgent business. Opening hours may be reduced in some venues and telephone lines will be operational, although response times may be impacted.
Contact details for individual court offices can be found at: 
For tribunals, details are at this link: 
Alternatively, you can phone 0300 200 7812.
Driving tests, MOT, and theory tests
Driver and Vehicle Agency (DVA) test centres plan to open as normal, but services may be affected.
Anyone with an appointment on Friday 22 September should go as scheduled, unless directly notified by DVA not to.
If your test cannot go ahead, DVA will contact you directly either by phone from a withheld number or by email, to arrange a new appointment at the earliest opportunity.
If you fail to go to a booked test, which you have not cancelled or changed, no refund or free test will be provided and you will need to rebook your test.
Theory tests
Theory tests will not be affected by the planned industrial action. Customers with appointments on Friday 22 September should go as scheduled.
General Register Office for NI
Due to industrial action on Friday 22 September, the services provided by General Register Office for NI may be impacted. 
The GRO Public Office will be open from 9.30 am to 4.00 pm, but there may be delays in the processing of requests.
Health and Social Care services
You can find updates about how industrial action is affecting Health and Social Care (HSC) services at this link:
Roads and flooding 
Industrial action will affect many routine and emergency roads and flooding responses, including:
You should still report any defects on roads using the Problems with roads and streets section.
You should report flooding on 0300 2000 100.
State Care sites and monuments
It is anticipated all sites will stay open to the public on Friday 22 September. However, anyone planning to visit is advised to check online or social media before travelling.
Toilet facilities and the visitor centre at Dundrum Castle will be closed from Thursday 21 September to Thursday 28 September.
Strangford ferry 
The Strangford Lough Ferry Service is not available on Friday 22 September due to the industrial action.
Information on school transport arrangements can be found on the Education Authority website: