Forest visitors: pay attention to warning signs and take care
Date published:
Take care when visiting a forest, as there are risks in a working woodland. It's important to be aware of the hazards to make sure forests can be enjoyed safely. Serious accidents can happen if attention isn't paid to warning signs.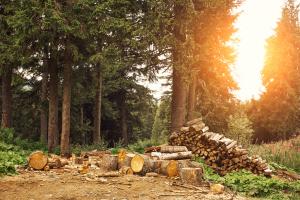 Risks and hazards in forests
The forest is a natural environment and you should be prepared for:
sudden changes in weather
rugged terrain
deep water
hidden cliff edges
The forest is also a working environment and forest operations take place all year round.
Work areas will be clearly signposted and you should obey signs to help your personal safety.
Warning signs are used to highlight dangers and risks, and diversions are put in place to avoid work sites because the heavy machinery used can be very dangerous.
Both felled timber and woodlands that are part-felled can pose dangers.
You can find further safety advice on the following page:
Instructions on site signs is for your protection - following these instructions will help make sure that a visit to the forest remains safe and enjoyable.
More useful links