Rubella
Rubella (German measles) is a viral infection. It's now uncommon in Northern Ireland because of the effectiveness of the measles, mumps and rubella (MMR) vaccination programme, with high levels of vaccination. You should always contact your GP if you think you or your child has rubella.
Symptoms of rubella 
Rubella is usually a mild condition that gets better without treatment in seven to 10 days.
Symptoms of rubella include:
a red-pink skin rash made up of small spots
'swollen glands' (lymph nodes) around the head and neck (these feel like firm pea-like swellings below the skin)
a high temperature (fever)
aching and painful joints – more common in adults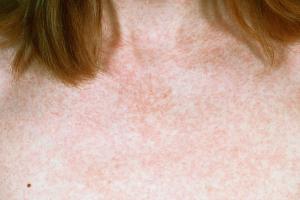 The rubella rash:
is typically a red-pink colour
consists of a number of small spots, which may be slightly itchy
usually starts behind the ears before spreading around the head and neck
may then spread to the chest and tummy (the trunk), and legs and arms
In most cases the rash disappears by itself within three to five days.
The symptoms of rubella usually only last a few days. Your 'glands' may be swollen for several weeks.
When to see your GP 
You should always contact your GP if you think you or your child has rubella.
Don't visit your GP surgery without phoning first. This is because arrangements may need to be made to reduce the risk of infecting others.
If you're pregnant and develop a rash or come into contact with someone who has a rash, contact your GP, GP out of hours or midwife immediately.
Rubella and pregnancy 
Rubella usually only becomes a serious concern if a pregnant woman catches the infection during the first 20 weeks of her pregnancy.
This is because the rubella virus can disrupt the development of the baby. This can cause a wide range of health problems, including:
eye problems – such as cataracts (cloudy patches on the lens of the eye)
brain damage
The birth defects caused by the rubella virus are known as congenital rubella syndrome (CRS).
Since the introduction of the mumps, measles and rubella (MMR) vaccine, CRS is now rare in Northern Ireland.
How it spreads 
Rubella is caused by a type of virus called a togavirus. It's spread in a similar way to a cold or flu, through droplets of moisture from the nose or throat of someone who's infected.
The virus can be passed on through coughing and sneezing.
You can become infected if you come into contact with droplets from a person with the virus. It can take two to three weeks for symptoms to develop.
If you have rubella, you'll be infectious to other people from one week before symptoms develop, and for up to six days after the rash first appeared.
You should stay away from school or work for six days after the rash starts to avoid infecting others. You should also try to avoid contact with pregnant women during this time.
Treating rubella 
There's no specific treatment for rubella. Symptoms normally pass within seven to 10 days. If you or your child are finding the symptoms uncomfortable, you can treat some of these at home.
For example, paracetamol or ibuprofen can be used to reduce the fever and treat any aches or pains. Liquid infant paracetamol can be used for young children.
Aspirin shouldn't be given to children under the age of 16 years.
Preventing rubella 
The best way to avoid catching rubella is to be immunised with the measles, mumps and rubella (MMR) vaccine.
The MMR vaccine is part of the routine childhood immunisation programme.  Contact your GP if you're uncertain whether your child's vaccinations are up-to-date. It's possible to have the MMR vaccination at any age.
If you suspect your immunisation isn't up-to-date and you're at risk of catching mumps, measles or rubella, your GP may recommend the MMR vaccine.
For example, this may be necessary if there's an outbreak of measles or you're a woman planning to get pregnant.
You can get your GP practice to check your vaccination history.
Your GP will be able to advise you about rubella, pregnancy and the MMR vaccine.
More useful links
The information on this page has been adapted from original content from the NHS website.
For further information see terms and conditions.