The Eatwell Guide
The Eatwell Guide shows the different types of food and the portions necessary to have a healthy, balanced diet. The guide applies to most people regardless of weight, dietary restrictions, preferences or ethnic origins, except children under two years old who have different nutritional needs.
Getting the right balance
You don't need to achieve the balance that is outlined in the Eatwell Guide below with every meal but try to get the balance right over a day or even a week.
You should try to:
eat at least five portions of various fruit and vegetables every day
base meals on potatoes, bread, rice, pasta or other starchy carbohydrates choosing wholegrain versions where possible
have some dairy or dairy alternatives (such as soya drinks) choosing lower fat and lower sugar options
eat some beans, pulses, fish, eggs, meat and other proteins including two portions of fish every week
use unsaturated oils and spreads and eat in small amounts
drink six to eight cups or glasses of fluid a day
If you include food or drink high in fat, salt or sugar, have these less often and in small amounts.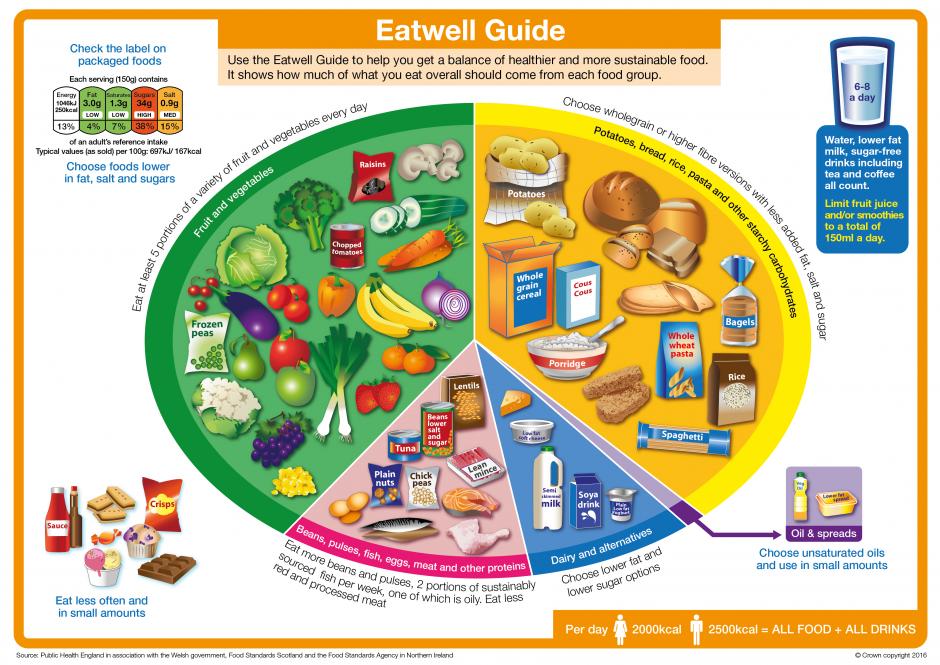 Front-of-pack nutrition labelling
Use front-of-pack nutrition labelling (traffic light labels) to help you choose healthier foods. These show if the food has high, medium or low amounts of fat, saturated fat, sugar and salt. Red means the food is high in that nutrient.
Keep an eye on how often you choose these foods and how much you eat. Amber means the food is neither high nor low in that nutrient. Ambers help balance your diet. Green means the food is low in that nutrient. The more green, the healthier the choice
Based on the advice from the Eatwell Guide, women are recommended to eat around 2000 calories a day, and men 2500 calories, in order to achieve a healthy balanced diet.
More useful links