Coronavirus (COVID-19): StopCOVID NI proximity app
Most people with COVID-19 won't know until they get symptoms. They could pass on the infection without knowing they have it. Contact tracing is a method to help prevent the further spread of infections.  When someone has a positive test, it aims to let people they have been in close contact with know, so they can avoid passing it on.
About the StopCOVID NI proximity app
The app has been designed to help stop the spread of COVID-19 in Northern Ireland by anonymously contacting other app users who have been in close contact with someone who has tested positive for COVID-19.
It will help contact people you don't know that may not be warned through the Digital Self-Trace (DST) service or by the manual contact tracers.
The app does not collect or store you information and so cannot share this with the contact tracing team or others.
Downloading the app
The app has been designed specifically for use on mobile phones. It cannot be downloaded to Ipads or other mobile devices
The app is available from both the Apple App store and the Google Play store:
Who should download the app
The StopCOVID NI contact tracing app is free to download and use to anyone who is:
aged 11 years and older
a resident in Northern Ireland
Users downloading the app who are not resident in Northern Ireland will not be able to receive authorisation codes as the app is linked to the NI test registry.
Once you activate the app, you will be asked to confirm you are a resident in Northern Ireland.
StopCOVID NI app  for 11-17 year olds
The StopCOVID NI app is also open to young people, aged 11 to 17, to download.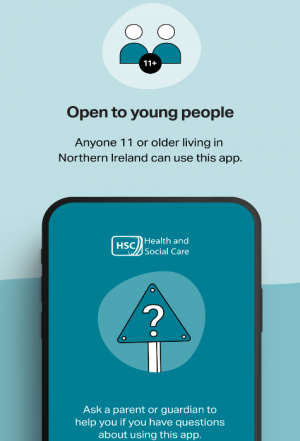 It's the same app; it just looks a bit different.  
The app does not collect any of your personal information or track your location.
It works via Bluetooth, but it won't use much battery or data allowance.
By using the app you will help reduce the spread of coronavirus, helping to protect your family, friends and community.
How the app works
The process for how the app works is outlined below: 
phones of those using the app emit anonymised coded 'keys', 'Identifier Beacons', which change every 15 minutes
'keys' are stored on the user's phone for 10 days before being discarded
when close to each other, app users' phones exchange these anonymous 'keys', and if they are in close proximity with another user for a significant period of time, both will store the anonymous 'key' of the other phone for 10 days
if an app user tests positive for COVID-19 the app will notify any app users that have been closer than two metres for more than fifteen minutes, either at one time or throughout the day (this is in line with current public health policy, and can be changed depending on advised best practice), in the previous 10 days
if the app notifies you that you were in contact with someone who has tested positive, you should book a PCR test and find out if you need to self-isolate
The process is also outlined in the video below:
Apple and Google have developed a method that allows specific government-only COVID-19 apps to make use of Bluetooth technology on phones that would otherwise not be available.
As the app will need to use the most current version of the phone's operating system, users may be asked to upgrade their operating system the first time they use it. Your information is never shared with Apple or Google. 
It is only available on phones that use Android or iOS operating systems.
StopCOVID NI 'easy explainer'
Information about how the app works, how to download it and how it protects your data is available at:
Using the app outside of Northern Ireland
You will be able to continue using the app it if you travel to:
England
Jersey
Republic of Ireland
Scotland
Wales
You do not need to do anything for this to work, simply keep the app active while in the places listed above. Your phone will be able to connect to the relevant apps and continue to provide an alert if you have been in close contact with another app user who has tested positive for coronavirus (COVID-19). 
This compatibility will allow those having to travel for essential reasons to continue to be alerted via the StopCOVID NI app.
StopCOVID NI exposure notifications explained
If you have been close to another app user who has tested positive, you will receive a notification.
If you test positive for COVID-19
If you test positive for COVID-19 you will receive a unique test result code. The code is valid for 24 hours. You can add that result code to the app and alert others. This will never reveal who you are or where you are.
Codes should only be entered into the phone of the person being tested. A parent or guardian should not be entering children's codes into their own phones, as this will not send close contact alerts to the correct individuals.
This will result in the wrong people self- isolating for a period of time, while those who potentially have the virus will continue to circulate within the community.
Self-isolating and self-isolation certificates
The app will now tell you how many days you may need to self-isolate for and the date you can end self- isolation, based on when you came in to contact with someone who has tested positive for COVID-19.  
You may need to self-isolate for 10 days from the day you are exposed to someone with COVID-19. 
The app uses your exposure date (the day you came in to contact with someone who tested positive) to calculate how many more days you need to self-isolate for.
The privacy of app users will still be maintained.
You may wish to share this information with others, which you can do this by sending a certificate to individuals or organisations that you select.
Self-isolation certificate
If the Stop COVID NI app asks you to self- isolate, you can send a notice of this to someone else, for example, your employer or your school.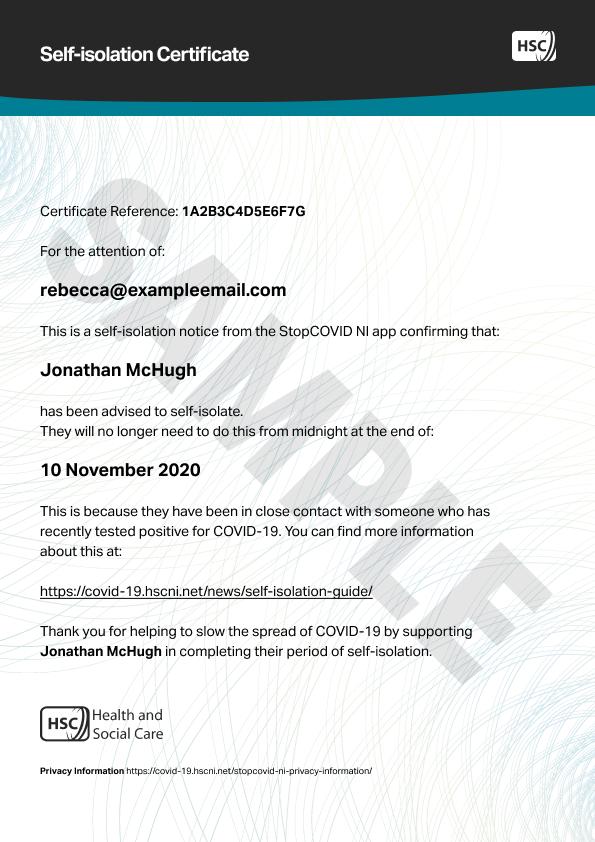 The certificate will include your:
name
notice reference number
the date on which you can leave isolation
To complete a notice form you will be asked to provide your:
name
email address
the names and email addresses of the people you want to send the certificate to
The certificate will then be sent using the secure GOV.UK email service before deleting all the information you provided.
You can only do this once for each period of self-isolation so check all the email addresses you have provided are correct. HSC cannot retrieve copies of certificates.
You may be eligible for a grant from the Department for Communities to support you through self-isolation. If so tick the box to send the email directly to Department for Communities.
You will receive a confirmation notice that the emails have been sent.
Turning the app off
The app should be active as much as possible. If you need to disable it, you can do this by turning off your phone's Bluetooth.
If you work somewhere that uses social distancing and added safety measures (for example, perspex screens and PPE), you can disable the app while working.
The app doesn't know you have extra protection from close contact in this scenario, so disabling it will avoid 'false' contact notifications.
What data the app uses
The following app metrics will be collected from your app:
the number of app users
ratio of exposure notifications to positive cases, measured at a regional level (not related to any individual user)
The Department of Health will not know who, where or when, simply total numbers of 'authorisation codes' and 'exposure notifications' in any given time period.
No personally identifiable information is entered on the app. The 'app settings' gives you the ability to remove the app at any time, and any information stored on the phone while using the app.
Additional information and resources
Additional information on the app, including explanations to commonly asked questions is available at:
Further resources including a poster, TV advertisements and digital resources are available at:
More useful links