Taking care in the sun
Date published:
It's nice to enjoy the sunshine, but you should be aware that too much time in the sun is dangerous. It can damage your skin and lead to skin cancer in later life. It's important to take care in the sun and protect yourself.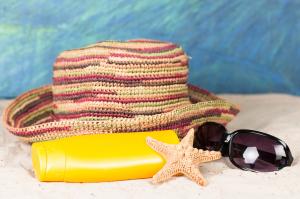 Protection against the sun
Being active and having fun outside in the sun is good for your health, providing essential vitamin D.  
The unpredictability of summers can lead to many people thinking they will not get sunburn in such a changeable climate.
Everyone is at risk of sun damage, but certain groups are particularly at risk, including:
those with fair hair and skin
babies and children
outdoor workers
people with a family history of skin cancer
Even a small amount of exposure to the sun can do damage.
It's vital to take the necessary steps to protect ourselves in the sun and actively reduce the risks of skin cancer.
UV levels
It's important to:
be ultraviolet (UV) radiation aware
know what the UV index is going to be throughout the day
take appropriate care in the sun according to the UV level
UV levels vary with the seasons and time of day, but when the UV index is three or above you need to protect your skin and eyes. 
You are even exposed to UV rays on cool or overcast days.
Avoiding sunburn
It's important to avoid sunburn, which can be very unpleasant and may cause long-term skin damage.
Just one episode of sunburn, especially in childhood, can double the lifetime risk of malignant melanoma so it's important to take care in the sun.
By following some simple steps, you can help protect against the sun's harmful UV rays:
seek shade when the sun is at its strongest – generally 11.00 am to 3.00 pm
cover up in the sun with a long-sleeved t-shirt, sunglasses and hat 
wear sunglasses that have one of the following - CE and British Standard Marks, a UV 400 label, 100 per cent UV protection
sunglasses should fit your face well and fairly snugly so that light doesn't enter your eye from around the lens
use sunscreen and lip balm with a minimum sun protection factor (SPF) of 30 for UVB protection and four or five stars for UVA protection (or it displays the EU logo for UVA protection)
apply sunscreen liberally 30 minutes before going out and don't forget your head, neck and ears

over half a teaspoon of sunscreen on each arm
over half a teaspoon for the face and neck (including the ears)
just over one teaspoon for the front of your body
just over one teaspoon for the back of your body
just over one teaspoon on each leg

re-apply sunscreen at least every two hours (more frequently after swimming)
Examine your skin
It's important to examine your skin regularly and to watch for any changes.
If you notice a lump, a sore which does not heal, a mole which changes shape, size, colour or bleeds easily, or if you have any concerns, seek advice from your GP.
Hot weather advice
You can find out more about protecting yourself during hot weather on the following pages:
More useful links