Respect road workers and obey traffic signs and lights
Date published:
All road users are asked to respect the safety of road workers by slowing down at roadworks and obeying by all temporary traffic signs and lights. Speed and other restrictions are not there to inconvenience drivers but to make the roads safer for everyone.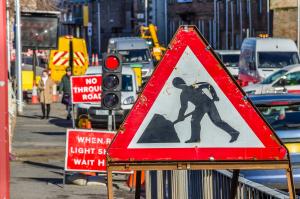 Traffic controls
Traffic controls are put in place for everyone's safety.
If you ignore speed restrictions, stop signs, road closure signs and coned areas, you're not just risking the life of road workers but you're also putting yourself and others in danger.
At major roadwork sites the road layout and temporary surfaces can change regularly, so it's critical that motorists drive at a safe speed.
Further guidance on how to drive near roadworks is set out in the Highway Code:
You can get more road safety advice at the following link:
Penalties
Breaches of temporary speed limits are treated in the same way as other permanent speed limits. You could get a £60 fine and three penalty points.
For those road users who disregard 'road closed' signs you could get anything from a fixed penalty through to prosecution for careless driving.
More useful links