Dangers of starting a fire deliberately
Date published:
Deliberate fire-setting is dangerous and can have extreme consequences. Keep an eye out for anyone starting fires deliberately and report any suspicious behaviour to the police. Act responsibly and don't make hoax calls or attack firefighters.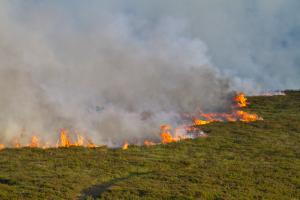 Putting lives at risk
When someone starts a fire deliberately, they are putting not only firefighters' lives at risk, but also their local community and wildlife.
These fires can easily spread and even a slight change in wind direction can pose a serious risk to life, property and the environment.
Fighting these fires also means that firefighters and appliances are taken away from other duties and are unable to respond if another emergency call comes in.
Gorse fires
Gorse fires can be a serious problem. It's not just the larger fires on hillsides and mountains that can be a problem. Smaller fires involving grass and bushes also need to be dealt with quickly as they have the potential to spread and develop into bigger fires.
The majority are believed to be started deliberately, but some are started accidentally.
They can be caused unintentionally by thoughtless and careless behaviour. 
You should:
put out cigarettes and other smoking materials properly
never throw cigarette ends out of car windows
only use barbecues in designated and safe areas and never leave them unattended - keep children and ball games away from barbecues
make sure that barbecues are fully extinguished and cold before disposing of their contents
avoid using open fires in the countryside
never leave bottles or glass in woodlands, as sunlight shining through glass can start a fire - take them home or put them in a waste or recycling bin
report any fire in the countryside immediately to the NI Fire and Rescue Service
not try to tackle fires that can't be put out with one bucket of water
leave the area as soon as possible if you see a fire
report any suspicious behaviour to the police
Fire safety advice
You can find out more about fire safety at this link:
More useful links