Clean hands help stop spread of infections
Date published:
Each year, millions of infections are prevented through the simple act of washing your hands. Regular and thorough hand washing can save lives and avoid the need to use antibiotics to treat infections.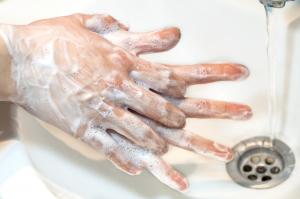 Good hand hygiene
Good hand hygiene is one of the most important tools in preventing illnesses. It can help protect us and our families.
Overuse or misuse of antibiotics makes them less effective over time. So the next time you pick up an infection, the antibiotic may not be as effective or even work at all.
That risk can be reduced by simply washing your hands properly. It will reduce the possibility of spreading illness and means antibiotics are kept for when they're needed most.
Simple hand-washing steps
By following the steps below, everyone can make sure they have clean hands:
wet hands with warm water
use enough liquid soap to cover the surface of both hands
rub hands together, soaping all areas (including the backs of the hands and between the fingers)
rinse hands with warm water
dry both hands thoroughly
You can find out more on the following page:
It is important to remember that anti-bacterial gels and wipes are generally not a substitute for washing hands with liquid soap and warm water. They may not be able to remove bugs and germs in an effective way.
However, gels and wipes may be useful as a short-term measure if hand-washing facilities are not available.
More useful links