Beware dangers on rural roads
Date published:
All road users are reminded of the hazards faced when travelling on rural roads. Whether walking, cycling, riding or driving, be mindful that country roads do have hidden dangers.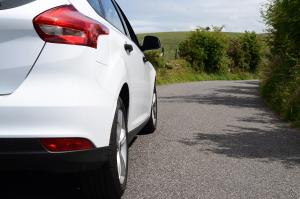 Don't take risks
Rural roads may seem safe due to less traffic, but they're deadlier than you think. 
Higher speeds, hidden dips and twisty roads reduce the distance that drivers can see ahead, giving less time to react and resulting in more severe collisions.
When travelling, don't take risks with your safety or the safety of others.
Driving
When driving, be on the lookout for people with whom you share the road.
As the nights get darker, it becomes more difficult to pick out vulnerable road users, such as pedestrians,  cyclists and horse-riders.
When you can't see ahead, always assume that there may well be someone walking, cycling or on horseback around the corner.
Change your driving to cope with winter conditions - in particular, by reducing  speed. 
Just because a road may have a 60 mph limit, the road surface could be icy or might have surface water that makes it unsafe and inappropriate to travel at the posted speed limit.
Take extra care when overtaking and pay particular attention at junctions, when emerging and turning right.
It may seem obvious but expecting the unexpected can help you stay safe, especially if you suddenly meet ice, mud or wet leaves on the road, animals, or slow-moving farm machinery.
Cycling, walking or horse-riding
If you're cycling, walking or horse-riding, make sure you help yourself to be seen by others - wear bright, contrasting clothing by day and ideally reflective clothing or armbands at night.
If out walking, use footpaths where available and always walk on the right-hand side facing the oncoming traffic.
Be careful that headphones don't distract you from your surroundings and the actions of other people.
You can get more road safety advice at the following link:
Everyone needs to play their part and take personal responsibility for road safety.
More useful links