Good ventilation helps stop COVID-19 spreading
Date published:
The chance of spreading coronavirus (COVID-19) becomes more likely in areas where there is poor or no ventilation. Making sure that good ventilation takes place in your home or place of work reduces the level of virus in the air and cuts down the risk of infection.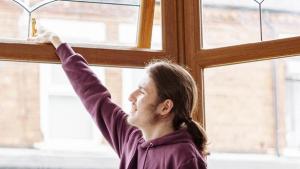 Ventilation and why it is important
By ventilating indoors you are letting fresh air in and removing stale air.
A person with COVID-19 in a poorly ventilated room means the level of virus in the air can build-up. This risks the spread of COVID-19. The virus may also stay in the air for some time after an infected person leaves.
The more fresh air that moves through a room, the quicker any airborne virus will be removed.
Ventilation is very important if someone in your home has COVID-19 or when you have visitors.
Simple steps for good ventilation
opening windows and doors is the easiest way to improve ventilation
open any window vents or grilles
opening windows at opposite ends of the room is a good way to change the air
try to keep windows and vents open during the day
even if it's cold outside it still helps to open windows even slightly
You can get more guidance about ventilation in your home or work place at this link: