Women and medicine during First World War
To mark International Women's Day, PRONI hosted a half day conference exploring the role of female medical and nursing staff during the First World War (WW1). This event was held on 6 March 2018.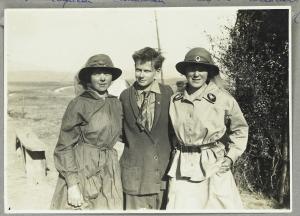 Women and Medicine during WW1
The conference examines the enormous, often unrecognised contribution made by female doctors, nurses and voluntary medical aids during the WW1, at home and abroad.
Speakers:
Royal College of Nursing - History of Nursing Network, NI
Sarah Paterson (Imperial War Museum)
Sean Graffin (Ulster University)
Dr Shelagh Mary Rea (Consultant Psychiatrist)
Dr Clara Cullen (UCD Humanities Institute)
Trevor Parkhill (Author of 'The First World War diaries of Emma Duffin, Belfast Voluntary Aid Detachment Nurse')
Imperial War Museums - WomensWork100 - film screening
Another event which accompanied the conference was entitled Imperial War Museums – WomensWork100 – Film screening at PRONI. Imperial War Museums showed three short films to mark International Women's Day and the centenary of the Representation of the People Act 1918.