Suffrage/ Representation of the People, 1832 to 1928
To coincide with National Democracy Week, PRONI hosted an event about suffrage and The Representation of the People Act 1918. PRONI also launched it's latest exhibition along with a range of interactive suffrage related resources developed by the Nerve Centre on 2 July 2018.
Speakers
Dr Margaret Ward (Queen's University Belfast) - Winning the Vote, Suffrage in Ulster
Niall Kerr (Digital Resource Developer, The Nerve Centre) - Creative and Digital Responses to Suffrage
Dr Glynn Kelso (Public Record Office of Northern Ireland) - Voices from the Archives: Local Perspectives on Suffrage
PRONI exhibition 
To mark the centenary of The Representation of the People Act 1918, PRONI has developed an exhibition exploring the journey from reform of the 40-shilling franchise in 1832 to universal suffrage in 1928, and recognising some of the many people who championed change.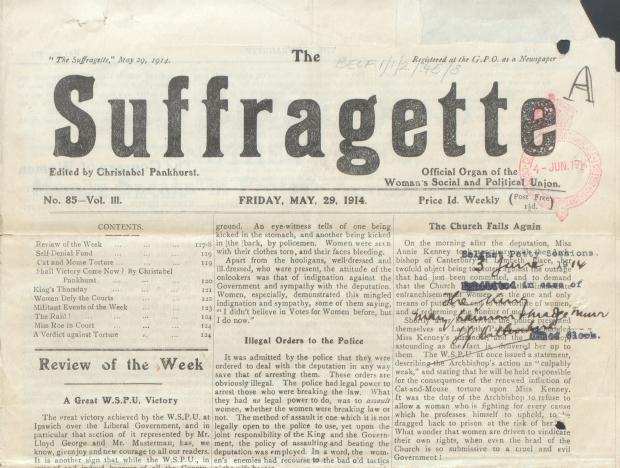 The Representation of the People Act 1918 was the first Act to introduce voting rights for women, albeit only for those over the age of 30 and depending on a number of qualifications.

It is also significant in that it extended the franchise to all men over the age of 21 for the first time, without qualification. It would take a further ten years before men and women were granted equal suffrage in the UK.
Suffrage resources 
A range of educational suffrage resources developed by the Nerve Centre on behalf of the Department for Communities was launched on the day.  
iBook:
An interactive resource bringing new life to PRONI's 'Stand up and be counted' education pack, featuring extensive archival material about the suffrage movement, repurposed in a digital format with interactive timelines, video content and quiz questions.
Graphic novel:
A new flip-side graphic novel exploring the lives of Countess Constance Markievicz and Edith, Lady Londonderry, including their efforts to bring about equality between women and men.  The resource will be linked to the curriculum at Key Stage 3 and include suggested digital tasks for the classroom.
Animation:
A specially commissioned 2.5D animation charting the history of the suffrage movement, with a particular focus on the role played by women from across Ireland.
Edith and Constance:
The event also saw the first public performance of a new drama production from Kabosh Theatre Company, featuring a fictional meeting between Edith, Lady Londonderry and Countess Constance Markievicz.