Stay Home Memories
On 23 March 2020 the Stay Home directive was announced and life changed for everyone in Northern Ireland, and across the world, as everyone collectively fought to control the COVID-19 virus.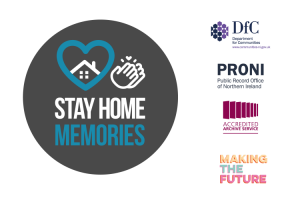 Stay Home Memories project
As the Official Archive for Northern Ireland, PRONI will receive and archive records of the activities of the nine core Civil Service departments and how they responded to the pandemic. It is also important that PRONI is able to collect, preserve and make available the experiences of as many members of our community as possible, and for this they need your help.
PRONI has launched the Stay Home Memories project to gather information on the lives of the people of Northern Ireland and how the pandemic effected everything from work and education to shopping and family and social life.
Record keeping is vital to our understanding of the past, and the present. In recent years PRONI has been able to investigate and understand events around the Decade of Centenaries because of the historical records that were kept and it's important that PRONI collect information now for researchers of the future.
There are three ways that you can take part in the Stay Home Memories project:
Stay Home Census
Complete the Stay Home Census Form and tell PRONI who you locked down with, how it affected your work, education and living arrangements.
Stay Home Web Archive
PRONI has had a Web Archive for a number of years and already archives government and local authority websites. So much key information is held on private and community based websites. Help to capture our online heritage by nominating websites containing information on community activity and responses to the COVID-19 pandemic.
Every effort will be made to capture all of the content of the websites selected for inclusion in the 'Stay Home' project, including images, documents, web links, and video and audio files, however technical limitations may prevent the web crawlers from capturing certain types of information. PRONI cannot capture websites which require a username and password to access, for example, a private Facebook page.
PRONI operates a takedown policy on archived websites.  To find out more, see the PRONI Takedown Policy.
Stay Home Diaries
Diaries, letters, scrapbooks and photographs can tell us so much about an individual's experience of a historical time period – have you been documenting the COVID-19 pandemic? If so, would you consider depositing your records with PRONI? PRONI can accept both paper and digital records, as gifts or loans and you can talk to a member of staff about when your records will be made available to the public. 
E-mail pronievents@communities-ni.gov.uk if you would like to contribute to the Stay Home Archive.