Positive Aging Month Practical Workshop - Using Family and Local History Resources Online
Are you interested in local and family history? As part of Positive Ageing Month 2018, come along to a workshop at PRONI to find out more and improve your IT skills.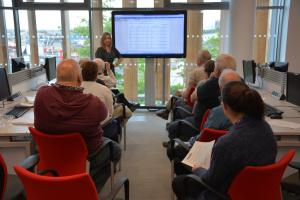 Workshop
Each session will start with an orientation tour of PRONI, followed by an introduction to searching resources online.
The workshops will take place on
12 October 2018
26 October 2018
Each session will last for 2 hours, running from 11.00am to 1.00pm.
This is a free event however spaces are limited.
Additional Information
admission is FREE, book via Eventbrite
the Heritage Cafe at PRONI will be open from 9.30 am to 3.00 pm