Russian Revolution programme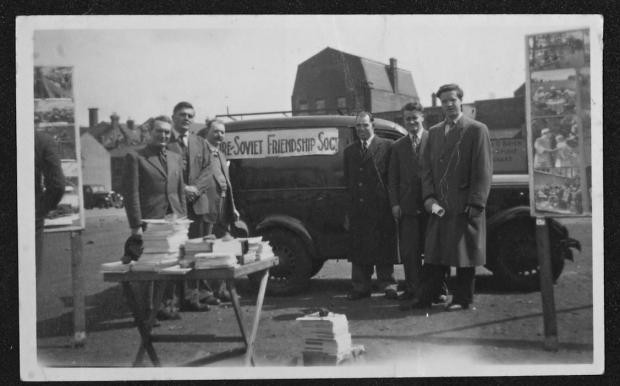 Talk
Details

From February to October: Competing Visions of Revolution

by Professor Ian Thatcher

Ian Thatcher is Professor of History at Ulster University, having held previous appointments in Scotland, England, New Zealand, and Finland. He began his study of modern Russian history at postgraduate level in 1988, and has published widely on the Russian revolutionary movement

Bolshevism as foreign policy: Irish Labour and the October revolution

by Professor Emmett O'Connor

Emmet O'Connor was born in Dublin, and studied at University College Galway and St John's College, Cambridge. Since 1985 he has lectured in the School of History and English, Magee College, Derry and in the University of Ulster, Coleraine. Between 1983 and 2001, he co-edited Saothar, and is an honorary president of the Irish Labour History Society, and secretary of the North West Ulster branch of the Historical Association and of the North West Spanish Civil War Memorial Project. He has published widely on labour history, including Reds and the Green: Ireland, Russia, and the Communist Internationals, 1919-43 (UCD Press, 2004); Big Jim Larkin: Hero or Wrecker? (UCD Press, 2015), and Derry Labour in the Age of Agitation, 1889-1923 (Four Courts Press, 2016). At present he is working on a study of the Irish in the International Brigades

Women & the Russian Revolution

by Professor Mary Davis

Mary Davis FRSA is Visiting Professor of Labour History at Royal Holloway, University of London. Formerly she was Professor of Labour History at London Metropolitan University where she was head of the Centre for Trade Union Studies and the Deputy Director of the Working Lives Research Institute

Different interpretations of the 1917 revolution

by Jim McBride

Jim McBride is a retired teacher and secretary of the History Teachers Association of Northern Ireland
Talk
Details

The Russian Revolution and its Legacy: A Trade Union Perspective

by Sean Byers

Seán Byers is the author of Seán Murray: Marxist-Leninist and Irish Socialist Republican. He currently works for Trademark, the anti-sectarian unit of the Irish Congress of Trade Unions.

Lessons of 1917 and the role of the Communist Party of Ireland

by Joe Bowers

Joe Bowers is a long standing member of the Communist Party of Ireland and sits on its National Executive Committee. He has worked for many years defending workers' rights and promoting anti sectarianism.

A former trade union official, he was a member of the Executive of the Irish Congress of Trade Unions and its Northern Ireland Committee and Chaired the Confederation of Shipbuilding and Engineering Unions.

He was a member of the Belfast Trades Council and is a founder member of the Belfast Unemployed Resource Centre.

He was an active member of the Northern Ireland Civil Rights Association and is involved with the Fellowship of Messines exploring with ex-combatants themes of common history, conflict resolution and personal development. He was a member of the Irish Soviet Friendship Society.

The impact of the October Revolution in Ireland: the Limerick Soviet of 1919

by Dr Conor Kostick

Dr Conor Kostick is a writer and historian living in Dublin. He holds a gold medal and PhD from Trinity College and is the author of Revolution in Ireland: Popular Militancy 1917 – 1923.