The Document reads "I tell you to shave off that dangerous gurl ruinin baird or lave the cunthry at once – if ye don't do one or the other and that pretty quick see what you are to expect – chuse baird or no baird, yur baird or yur life..."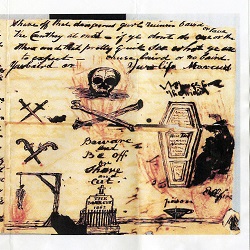 PRONI's Richard Lecky explained:
This threat was made against the Marquis of Abercorn by his tenants. They described him as a "rampaging ram" with long red beard and young deceitful looks and accused him of lookin and winking at our sisthors and our swateharts" and "stealing the afexshuns of the poor misguided creatures.

They warned him, twelve of us have sworn to have your harts blood and singe yur baird and pull out with red hot pincers every hair that is not singed and send you home as bald as a scalded pig... and threatened: We are lying in wait for ye, watching ye, we got the instruments all ready to perform the operashon.

As if that was not enough, they illustrated their point with grotesque death related images, the hanged man over a fire is particularly gruesome.

I chose this letter as November Document of the Month for a few reasons. Firstly because of its facial hair references, some of us at PRONI are growing moustaches for Movember to raise awareness and funding for men's health. Secondly because I found some of the references in the letter quite amusing and finally because I grew up not too far from the estate in Tyrone".