The file 'Emergency Bread Exercise' dating from 1953/54 was found within the records of the United Co-operative Baking Society, Belfast.
The report, originally marked as 'Confidential', gives detailed predictions of the probable scale of destruction following an atomic strike on Belfast. As well as commenting on the grim realities of casualties and evacuation, the record also concentrates on another crucial aspect of life: the availability of bread each day.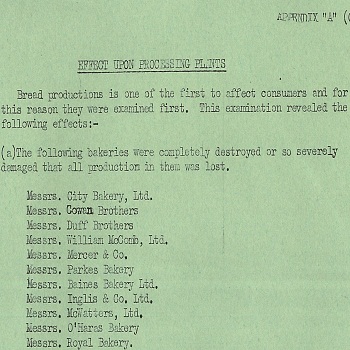 PRONI's Repository team picked the document. Team leader Alan Robertson said:
"This early fifties emergency planning exercise provides an insight into the expected aftermath of an atomic attack – with ground zero based at the now demolished, Midland Railway Station, York Street. It illustrates the disturbingly naive attitude to the impact of such a devastating attack, and the optimism prevalent at this early stage of the 'Cold War'".
The exercise highlights well-known flour mills and bakeries in Belfast and provides insight on the post-war bakery industry, including the importance of house to house deliveries. The report details that in response to an atomic attack emergency bread centres would be established with a mobile bakery unit situated in Castlewellan and exports strictly prohibited.
Maggie Smith, Director of PRONI said:
"In 1953 people were planning for survival in the event of an atomic attack. The Northern Ireland Emergency Bread Exercise demonstrates forward planning and creativity and is one of many unusual documents held in PRONI. Now in 2014 the Cold War is a topic within the NI GCSE curriculum and this great document will fascinate students looking at Cold War topics from a local angle. "