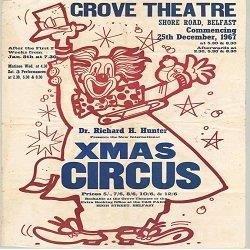 Dr Richard 'Dickie' Hunter was a lecturer and secretary of Queen University, Belfast and a curator of Belfast Zoo. In 1938, he went to England and met with the Chipperfield Circus family and the opportunity arose to become a stand-in ringmaster. Dr Hunter was so good that Chipperfield asked him if he would consider becoming a full-time ringmaster for their famous circus. He declined the request but the die had been cast and Dickie decided that in order to fulfil his new interest, he would have to open a circus in Belfast.

On Christmas Day, 1940, he presented his first circus in the Belfast Hippodrome in partnership with G.L. Birch as proprietor. It was a huge success and the first of many he would bring to Belfast. More and more people got to know Dr Dickie Hunter, not as an academic but as a ringmaster, resplendent in his scarlet uniform and top hat. He moved with his 'Continental Circus' to the Empire Theatre and it became an integral part of Christmas in Belfast for many people and they ran until 1969.

Dr Hunter describing his love for the circus:
"I am still a boy at heart, and feel the thrill of excitement at the mere sight of the brightly coloured bills and posters which announce the approaching visit of a circus".